Latest
This Twitter Thread On These Bizarre Structures Found In Saudi Is A Must-Read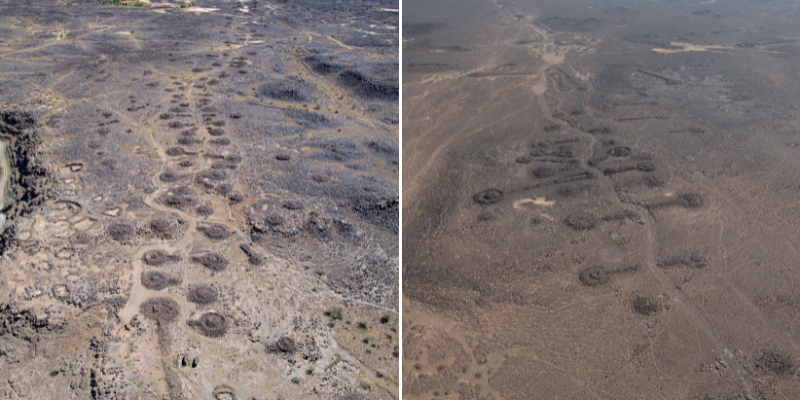 The ancient lava fields near AlUla and Khaybar are punctuated with these peculiar structures that are thousands of years old. Yes, thousands. But to really appreciate their beauty, you have to see them from above. That's what the "Aerial Archaeology in the Kingdom of Saudi Arabia" (AAKSA) project has been doing, and this Twitter thread sums up their crazy finds here.
Although AlUla and Khaybar are the richest sites, these structures can be found in a variety of locations, like this one in Hail province.
This spectacular tomb is part of a funerary avenue near Al Hait, in the province of Ha'il. It reminds us that these beautiful tombs are found across Saudi Arabia, often in long chains, which we call funerary avenues. 1/ pic.twitter.com/RxeJUqSORh

— AAKSA (@aaksa_project) November 29, 2022
These are actually burial structures and are often placed together, forming what has been termed a "funerary avenue."
The @aaksa_project often talks about the funerary avenues of Khaybar. Funerary avenues are ancient pathways flanked by tombs. The most famous of these radiate out of the Khaybar Oasis, such as this one. 2/ pic.twitter.com/N67oI9oCzl

— AAKSA (@aaksa_project) November 29, 2022
Yup, they actually look like an avenue from above.
Yet the avenues are everywhere! We find them in places like Al Hait and Al Huait in the province of Ha'il. 3/ pic.twitter.com/JPkxo36Qvo

— AAKSA (@aaksa_project) November 29, 2022
Here's a close-up of one of these structures.
One of the most common questions we receive is 'how do you know they are tombs?'. We have excavated dozens of these burials and other teams around the Middle East have excavated similar structures. We just don't show human bones out of respect. Here is one tomb we excavated 4/ pic.twitter.com/GpoXEexXpU

— AAKSA (@aaksa_project) November 29, 2022
This burial site is well over 4,000 years old!
These structures date to c.2800-2000 BCE, which we know based off LOTS of C14 samples. If you'd like to read about the dating, please see this paper https://t.co/hlzJqbbkaT We are writing up a few new papers on how they evolved over time! So stay tuned! 5/ pic.twitter.com/c5VzOXg3qZ

— AAKSA (@aaksa_project) November 29, 2022