Announcements
This Video Of Saudi Students' Victory At The ISEF Fair Is The Most Exciting Thing You'll See This Week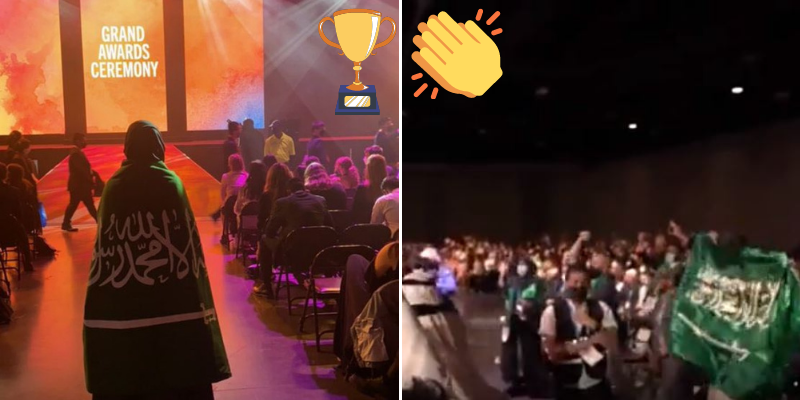 Saudi students recently took home 6 awards in the International Science and Engineering Festival in Georgia, United States
فرحة شباب وفتيات سعوديين بعد حصولهم على أغلب الجوائز بمعرض آيسف الدولي 2022 ❤️🇸🇦

— Gorgeous (@gorgeous4ew) May 14, 2022
This video of the announcement displays the happiness and excitement felt by these hardworking students, and it is honestly the most amazing thing to see.
Because the Kingdom had outshone in many categories, it was also announced that these students had won the MOST awards at the festival
Very proud of what happened at ISEF 2022, and very happy for future scientists, the vision of 2030 shone with you🇸🇦♥️♥️♥️♥️♥️

#ايسف_2022 pic.twitter.com/KBexxzfVXU

— Renad.s (@Daner_46) May 14, 2022
Six students, out of which 3 were Saudi nationals, were granted scholarships for an international enrichment program under Mawhiba. As reported by Arab News, some names of these awards included Abdullah Al-Ghamdi for two prizes in energy, Dana Al-Aithan for a prize in chemistry, Tahani Adel for materials, Maria Al-Ghamdi in chemistry, and Yousef Khoja in embedded systems.
proud of you🤍🤍🤍🤍
#ايسف_2022 pic.twitter.com/BRHPXvEk7e

— Rrrrr (@rhiiz9) May 14, 2022
Supporters rose to social media to congratulate and celebrate the victory of these students.
You are our pride and our role model. You have raised our heads. You are the pride of the Kingdom of Saudi Arabia💚🇸🇦#آيسف_2022 pic.twitter.com/R0ex1TyWGa

— حمد بن ابراهيم المطيري🇸🇦 (@hamd_ksa1) May 14, 2022
These students have really made Saudi proud for showcasing their unique talents and capabilities