Travel
An Ancient Rock Formation In Saudi With A Laser-Like Cut Through It Has Baffled Twitter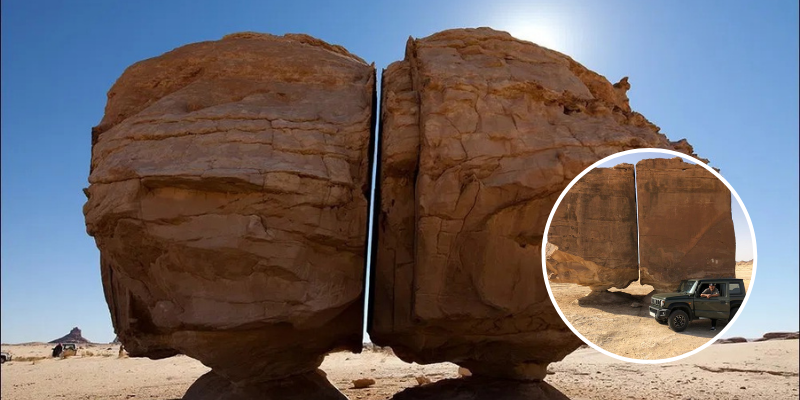 Whenever you think you've seen all of what Saudi has to offer, the country hits back with a new place every time. This vast country truly has lots to see and a recent photo that has been making rounds on Twitter proves just that.
The photo is of an ancient rock formation called the Al Naslaa and what's special about it is the fact that it has what to be a laser-like cut right through its center.
The Al Naslaa Rock Formation, located in Tayma oasis, Saudi Arabia, has a perfect laser-like cut through its center. It's over 4,000 years old and no one knows how it happened . pic.twitter.com/fXisPn04nC

— Archaeology (@Archae0logy) September 3, 2021
It's pretty big, just look how small this SUV looks behind it
And here is a picture of me on the other side of it. pic.twitter.com/Iz1u5Tkmvv

— 𐩲𐩨𐩵𐩱𐩡𐩲𐩸𐩺𐩸 (@tajalmajidTM) September 3, 2021
A lot of theories trying to explain the unique rock formation started floating about
The answer is freezing of water in a crack on the rock

— Mr. H (@doctor_hendii) September 3, 2021

Including a user who suggested aliens 🙂
— rale.djurdan (@rale_djurdan) September 3, 2021
If you look closely you'll even see some petroglyphs on it.
View this post on Instagram