Makkah
People Are Shocked At The Videos Of The Heavy Rains In Makkah Earlier This Week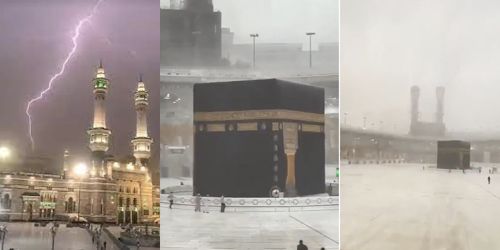 The holy city of Makkah was been hit by heavy rains, hail, and flash flooding earlier this week.
And social media is now full of videos and images of the extreme weather condition that took place
Floods now in Makkah سيول مكة الآن pic.twitter.com/wLSVA5YTQL

— AbdurRaheem McCarthy (@shmccarthy) April 27, 2021
The Saudi Civil Defence warned people to stay away from places that could flood
What's your excuse for Salaah ?
•
From yesterday's floods in Makkah pic.twitter.com/oLRT9Ylqqn

— Yaamin | يامن (@_Selftaught_) April 28, 2021
The authorities were, however, able to get the roads cleared up and safe for use in minutes
A few days earlier, authorities warned people about heavy rain and thunderstorms in Mecca, Medina, Al Baha, Jazan and Najran with possible flooding in the Eastern Province, Riyadh and Qassim as well as light rains across Jawf, Tabuk and the northern borders.