Feature
Everyone's Praising Boulevard World For Its Incredible Attention To Detail In All 10 Countries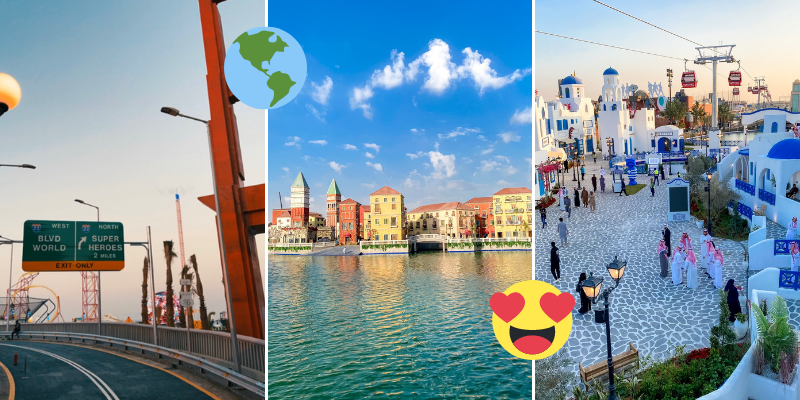 Boulevard World officially opened doors to the public earlier this week, and it's truly a global fantasy. Residents of Riyadh get to travel around 10 different countries in just a few hours thanks to this mini-global hub right in the city. From a selection of awesome rides, authentic international cuisine, and breathtaking architecture, Boulevard World has become the capital's newest hotspot.
Boulevard World is actually home to the world's largest artificial lake
Boulevard World slapped hard 👏👏👏👏 pic.twitter.com/BQwfoXnho1

— يزيد (@inandemonaiya) November 21, 2022
You can actually travel between the different cities on a boat! This place even has a submarine…
Each region has its unique aspect that have visitors swarming the place
#BoulevardWorld #بوليفارد_وورلد pic.twitter.com/HmnIxng3rO

— ✪ | 🅢🅤🅛🅣🅐🅝 سـلـطـانــ (@SaudiBay) November 23, 2022
Just look at the details of each location 😍
You can visit Greece, USA, Spain, or enjoy some delicious food in India
بوليفارد وورلد الجديد يفتح النّفس والله شي فوق الخيااال ❤️ pic.twitter.com/Ex6MGhRS7c

— هزّاع (@Phza3) November 21, 2022
Boulevard World features 10 different countries including Morocco, China, Italy, France, India, Spain, America, Japan, Greece and Mexico. Visitors can enjoy different rides like a hot air balloon, chairlifts, and even purchase different items from each region.
People even gathered to celebrate Saudi's World Cup win against Argentina
احتفالات زوار #بوليفارد_وورلد .. بفوز الأخضر اليوم 😍🇸🇦
الدخول مجاني اليوم، تعال واحتفل ❤️#موسم_الرياض pic.twitter.com/sHzZbxpd1B

— موسم الرياض | Riyadh Season (@RiyadhSeason) November 22, 2022
Everything is on point 🔥
ابداععع❤️‍🔥 #بوليفارد_وورلد pic.twitter.com/YRW1gtF2GF

— . (@R_8ii2) November 24, 2022
Yes, this is in Saudi…
القيادة جعلت للترفية رونق مختلف بعد دعمها الكبير لمجال الترفيه ، وعمل هيئة الترفيه اللي اثبتت فيه كل فعاليات موسم الرياض الجباره اللي نشوفها الحين على اكمل وجه مثل بوليفارد وورلد 😍😍 pic.twitter.com/r0hY2T34Vg

— Sauod Sh (@sauod_oo89) November 24, 2022
The feedback on this place is nothing but positive