News
King Salman Has Sent Eid Greetings To The Entire Muslim Community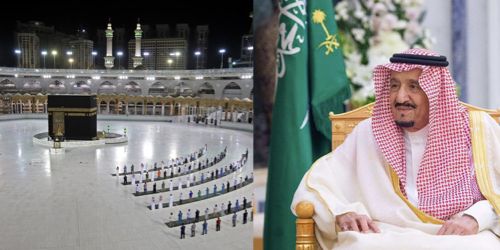 The Custodian of the Two Holy Mosques, King Salman has sent Eid greetings to the entire Muslim community.
King Salman tweeted his greetings earlier on Tuesday morning
Eid al-Adha is the latter of the two main festivals celebrated in Islam and it follows Hajj.
In his greetings, King Salman also stated that it is an honor and a blessing for Saudi Arabia to host the Two Holy Mosques and hopes for blessings across the world.
نحمد الله سبحانه الذي أكرمنا بخدمة الحرمين الشريفين، وإن ذلك لأكبر النعم التي حبانا الله بها، مستشعرين مقاصد الشريعة في حفظ النفس وحمايتها من كل ضرر.

ومع حلول عيد الأضحى المبارك، نسأل الله أن يرفع عنَّا والعالم كل مكروه، مستبشرين الخير في قادم أيامنا.

وكل عام وأنتم بخير.

— سلمان بن عبدالعزيز (@KingSalman) July 20, 2021
Eid Ul Adha also takes place in the last month of the Islamic calendar, and King Salman wished everyone a happy new year.
He also got on a call with leaders of other Arab countries to exchange greetings.