Best of
The Bernie Sanders Meme Has Reached Saudi Twitter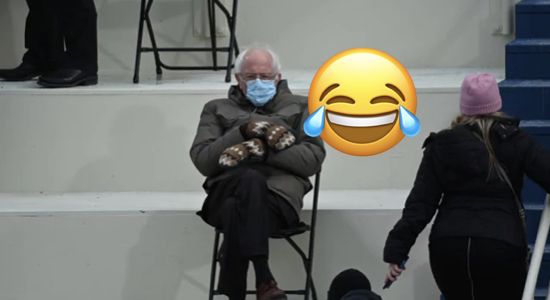 It all started with one picture of Vermont's Senator, Bernie Sanders, at President Joe Biden's inauguration.
He is socially distancing, wearing a huge jacket and large mittens, and looking just a tad bit grumpy (or just cold?). And just minutes after, the internet was doing what it does best – photoshopping memes.
There is also some very very Saudi content coming out of the Bernie Sander's memes
Saudi journalist, Ahmed Al Omran, has made some memes that, just about everyone in Saudi Arabia, can relate to.
When your expat friends insist you go with them to Edge of the World.. again pic.twitter.com/IBj7lRPecH

— Ahmed Al Omran (@ahmed) January 21, 2021
It is not just Saudi-specific content though, Saudis are in on all the Bernie-related memes right now
— つづく (@ZeZo__87) January 21, 2021
And sharing this is probably a great way to tell your Jeddah friends that you don't want to see the fountain again on your next visit…
When Jeddawi friends take you to the corniche to see the fountain but you are not impressed pic.twitter.com/MLkDLen3qg

— Ahmed Al Omran (@ahmed) January 21, 2021