Community
Noor Riyadh Is Shedding Light On Important Saudi Heritage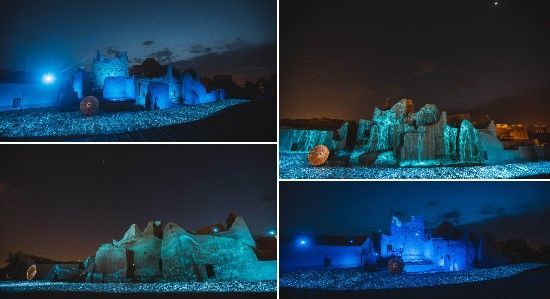 Noor Riyadh is absolutely dreamy and a treat for the eyes but it is also so much more than that – it is also a great history lesson.
The Salwah Palace, located in the historic neighborhoods of Ad Diriyah, is a very important place for Saudi heritage and Noor Riyadh brought it some well-deserved attention
Salwah Palace was the seat of government and the residence of the rulers of the first Saudi state.
And most recently, after the Prime Minister of Iraq, Mustafa Al-Kazemi, visited Saudi Arabia on a historic trip, there has been a revived interest in this historical place.
حي الطريف حي من أحياء بلدة #الدرعية والتي يعود تاريخها إلى عام 850هـ/1446م وكانت عاصمة الدولة #السعودية الأولى، وكان حي الطريف مقر الحكم ومقر سكن حكام الدولة #السعودية الأولى (أجداد الإمير #محمد_بن_سلمان)، وفي هذا الحي يقع قصر سلوى وجامع الإمام محمد بن سعود. https://t.co/WwUoV4EZ6p

— تاريخ آل سعود Alsaud History (@Alsaud_History) April 1, 2021
And Noor Riyadh is shedding some light on this history (rather literally)
محيطٌ و موج.. نخيلٌ و قصر!

– قصر سلوى، الدرعية. pic.twitter.com/jC9Uz2gUSp

— أحمد ليكتر ⚖️ (@uzx777x) March 30, 2021
ضمن فعاليات #نور_الرياض..
كانت لي زيارة الفعالية في حي الطريف التاريخي #الدرعية @DGDA_SA

البداية حجز تذكرة بقيمة 50 ريال للشخص
عبر الرابط https://t.co/bKWDr7kflF pic.twitter.com/Md0rtvaL8K

— بنت الدرعية (@bntdiriyah) March 28, 2021