Community
A Bunch Of Saudi Girls Dedicated This Eid To Others And It's So Sweet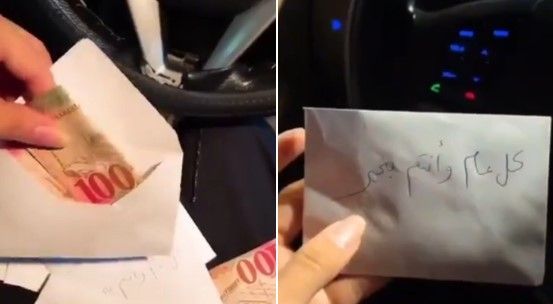 Eid is over and life is going back to normal but heartwarming stories from the festivities seem to never get old – all thanks to some Saudi girls.
These Saudi girls decided to make Eid better for other people
They decided to give out Eid money, as a present, to security guards and dedicate a part of this year's festivities to the people keeping them safe. Because Eid is all about community and sharing blessings with others – especially those who don't always have enough.
The idea spread across social media and many people got involved
Everyone was all praises! Shout out to the Saudi girls for making Eid better for the community.
بنات الوطن يقمن ببادرة رائعة، ويعايدن حراس الأمن بمبالغ مالية ♥️👏🏻 pic.twitter.com/zAE5FujXSD

— WHR (@whrumor) May 11, 2021
Eid begins with prayers and a sermon and are some of the most important communal aspects of the festival.
And this year's sermons – across Saudi Arabia – focused especially on the importance of vaccination
Saudi Minister of Islamic Affairs Abdulatif Al Sheikh had earlier directed mosque preachers to highlight the importance of vaccination against COVID-19 as the most effective method to return to normal life in their sermons.
In a circular to the preachers, the minister has also directed them to exhort worshippers to limit traditional Eid visits and avoid gatherings on the occasions and instead to make do with phone and online congratulations to protect themselves from the pandemic.
Worshippers were also advised to shun handshakes and to wear face masks as part of precautions against COVID-19.