COVID-19 In Saudi
An Exception Has Been Made To The Current Restriction That Prevents Saudis From Exiting The Kingdom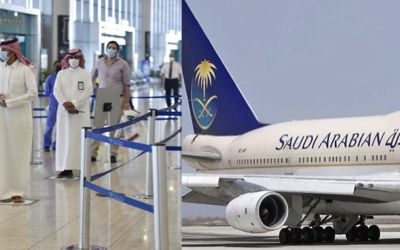 For the past few weeks, Saudis have been restricted from exiting the Kingdom as a measure to curb the spread of COVID-19.
On Jan. 8, the Ministry of Interior set March 31 as the date to review its suspension of international flights. On March 31, it was announced that Saudis will be restricted from flying till May 17 (which is when the suspension is to be reviewed again).
A royal decree has now been issued that Saudis who are married to non-Saudis may travel abroad if their spouse resides outside the Kingdom
Saudi travelers must present a copy of their marriage certificate to officials at departure points.
The directorate said that in case a Saudi husband cannot provide documents that prove his wife's presence outside the Kingdom and her inability to come to Saudi Arabia, he can apply for a travel permit through the "Absher" platform and attach all the required documents, to facilitate the procedures for obtaining the permit.