COVID-19 In Saudi
There Are Some Concerns That Violations Of COVID-19 Precautionary Measures Can Result In Another Spike In Cases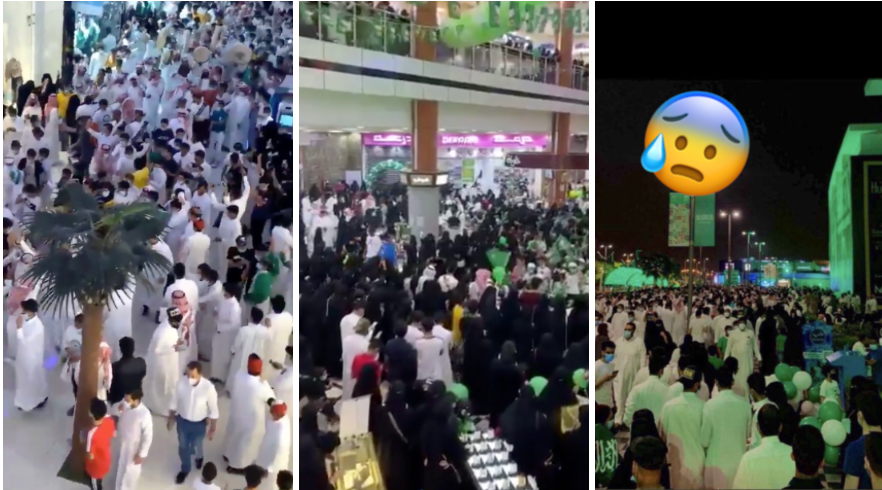 National Day is always a day of joy and celebration and this year, despite the circumstances, was no different.
And authorities had put in place laws to ensure preventative safety measures
However, many places – it turned out – have violated the social distancing protocols and laws for national day celebrations.
Videos on social media show that so many places packed with people and with very little social distancing in place. 
وين الكمامة؟ وين التباعد؟ وين وزارة التعليم؟ وين الدوريات؟
https://t.co/BiKdcD3nl9

— د. أحمد العمار (@Dr_alammar1) September 23, 2020
So many places were very crowded
https://twitter.com/AB_Algaissi/status/1308871429421760512?ref_src=twsrc%5Etfw%7Ctwcamp%5Etweetembed%7Ctwterm%5E1308871429421760512%7Ctwgr%5Eshare_3&ref_url=https%3A%2F%2Flovin.co%2Fsaudi%2Far%2F%3Fp%3D30040
The health spokesperson has also since stated that the scenes were painful for him and commented on how the congestion and chaos could possibly result in an increase in cases.
#متحدث_الصحة:
ما حدث من ازدحام وتجاوز للاحترازات الوقائية في اليوم الوطني مقلق ومؤسف جداً، الوباء لا يزال موجود وبقوة، التساهل والتهاون يمكن أن يعيد زيادته وتسارعه لا سمح الله.

— عاجل (@ajlnews) September 24, 2020