Jeddah
6 Things To Do In Jeddah To Escape The Summer Heat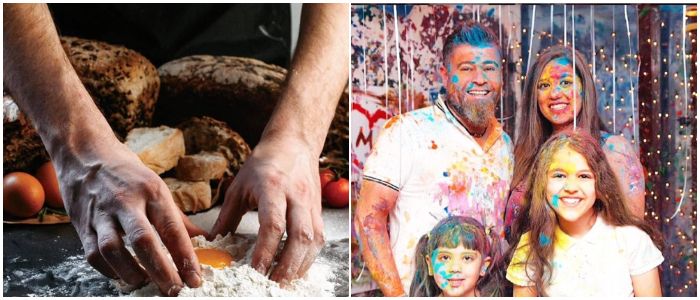 The temperature is rising but that doesn't mean you have to feel cooped up indoors till it cools off. Jeddah is more than just the corniche and the outdoors.   There are countless ways to keep yourself entertained in Jeddah that you can do in the comfort of a little air conditioning! There's something for everyone from the lifelong learner to the active adventurer.
Here are 6 things to do in Jeddah to beat the summer heat:
6. Learn something new
You can literally upgrade yourself by learning a new skill or several with lots of classes and workshops available in Jeddah. Upgrade offers plenty of classes to help you challenge yourself and have a little fun. They've got everything from a class on making French macarons and pastries, to becoming a better photographer with your smartphone or even learning to play the piano.
5. Get messy
Who needs paintball when you've got The Colorfly? This one-of-a-kind Jeddah studio is where you can get creative, get messy and feel like a kid again in a truly cathartic experience. This "expressive art" studio lets you paint literally on every surface — including your friends!– and there's just one rule: no brushed allowed. Use your hands to mix colours, make a rainbow and make a mess. Just don't wear your nicest clothes.
4. Be dazzled by marine life
Marvel at the variety of aquatic life at the massive Fakieh Aquarium. If you aren't able to go snorkelling or diving, the aquarium gives you a chance to see some marine life from the nearby Red Sea. Take the entertainment a step further and catch a super cool dolphin show — or if you really want to get adventurous, you can even swim with the dolphins! There's one way to cool off.
3. Visit some museums
Explore Jeddah and Saudi Arabia's rich history by heading to the Al Balad historic district. The Tayebat Museum is not only beautiful with its traditional architecture, you can see tons of artifacts and examples of Hejazi clothing, old relics dating back to early Islamic times and learn about the formation of the Kingdom. Interested in Jeddah? Head to the Matbouli House Museum to learn about life in the coastal city centuries ago.
2. Visit a "playground" for adults
Jump on the virtual reality bandwagon at Off The Grind. Slip on the virtual reality goggles and literally be transported to another reality as you play a number of mind-bending games that are out of this world and even face your fears virtually. They also have a cafe where you can chill out and have some drinks and they occasionally have art installations and karaoke nights.
1. Get Arty
Jeddawis love their coffee. Now you can have your cuppa and unleash your inner Picasso too. Arty Cafe's cool sip and paint events are a super chill and the perfect way to unwind from a busy day or week. Pick up your favourite drink and dessert and then grab a paint brush as you create your own masterpiece with a little guided class from an instructor. They also have pottery evenings and ceramic painting classes.