Jeddah
Jeddah's Waterfront Got A Colorful Makeover And It Looks Incredible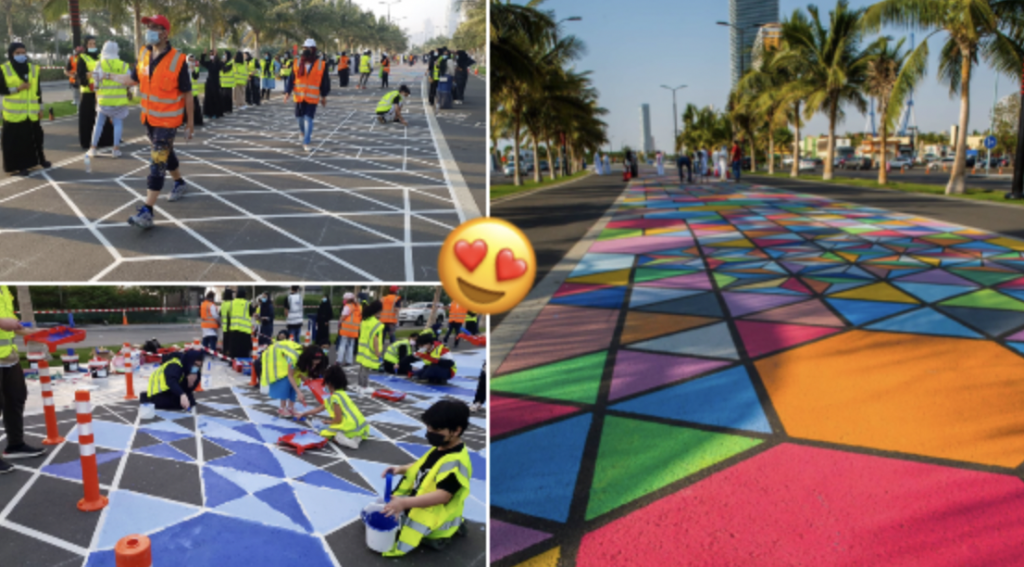 Jeddah is an absolute beauty and it just got a lot more charming thanks to the hard work of a lot of volunteers.
A charity group known as Jeddah Eyes Charitable has been working with Jeddah Municipality on a lot of exciting things
Just take a look at the streets near Jeddah Waterfront now.
#كورنيش_الألوان #الواجهه_البحرية كورنيش_الألوان
هي احدى مبادرات جمعية #عيون_جدة الخيرية بالتعاون مع #أمانة_جدة
وفكرة د.عادل الزهراني @dradelzahrani قائد الفريق التنفيذي والمشرف العام على التنفيذ للإرتقاء بالطابع الحضاري لمدينة #جده وتحسين المشهد البصري pic.twitter.com/FwW3rQgb9m

— جمعية عيون جدة الخيرية (@ojksa21) March 4, 2021
Dr. Adel, the leader of the team behind the Color Walk initiative, shared some behind the scenes
تشرفت بدعم ومساندةسموالمحافظ وسمو وكيل المحافظ ومعالي أمين جده بالتعاون مع جمعيةعيون جدة لتدشين مبادرة #كورنيش_الألوان والتي تأسست إنطلاقتها7/10/2020لتحسين المشهدالحضري بمساهمة متطوعين ومتطوعات من محبي جدةلتنفيذها شكرالله مساعيهم وجهودهم علىماقدموه#placemaking#jeddah_colorwalk https://t.co/Lxs2E41rY5 pic.twitter.com/6GQubaQ0iK

— dr adel alzahrani د عادل الزهراني (@dradelzahrani) February 26, 2021
So good!
https://twitter.com/Danah_zainy/status/1370968549745946624?ref_src=twsrc%5Etfw%7Ctwcamp%5Etweetembed%7Ctwterm%5E1370968549745946624%7Ctwgr%5E%7Ctwcon%5Es1_&ref_url=https%3A%2F%2Flovin.co%2Fsaudi%2Far%2FD8ACD8AFD8A9%2FD983D98AD981-D983D8A7D986D8AA-D982D8B5D8A9-D8B1D8B3D985-D985D985D8B4D989-D8A7D984D8A3D984D988D8A7D986-D981D98A-D988D8A7D8ACD987D8A9-D8AC%2F
صباح الجمال والألوان الجميلة 💕 من ممشى الألوان الواجهة البحرية 💕#جدة.
من تصوير المصور الدولي تركي الداخل 🌿 pic.twitter.com/Bme7YwfRKX

— Ⓢ𝕤𝕙𝕠𝕤𝕙Ⓢ (@2055Shosho) March 10, 2021