Jeddah
This Cafe In Jeddah Is Trying To Foster A Culture Of Bringing Together Creative People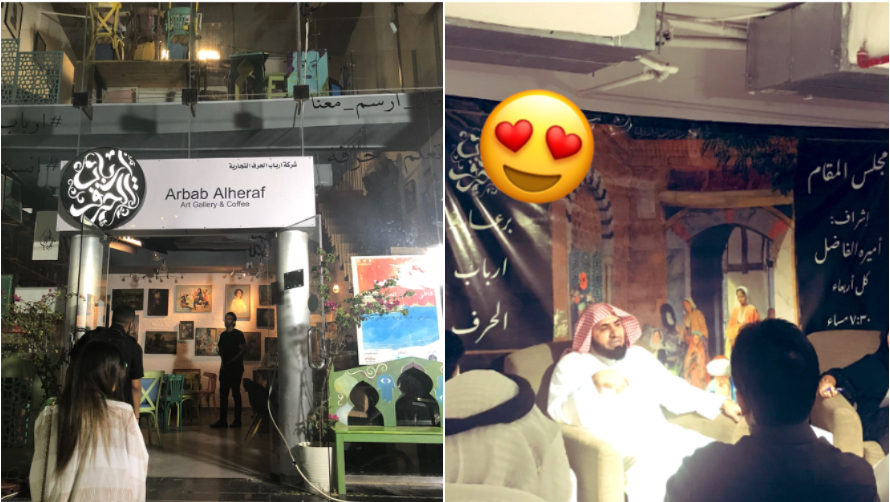 It is probably safe to say that creativity loves company.
And a Jeddah-based cafe is working on exactly that – bringing creative people together in a space that fosters collaborations, conversations, and inspiration amongst established and aspiring members of the creative industries.
Arbab AlHeraf is a combination of an art gallery and an old-school coffeeshop and located in the heart of Old Jeddah.
It is also very true to its Arab heritage
وكانت المَقاهي بيوتنا المُشتركة، وكُنا نَعود مِنها برائحة القهوة، ورَغبةٍ أقلَّ في البُكاء.#ارباب_الحرف

_علي عكور pic.twitter.com/1XfNaaWu75

— Abdullah S Alhodaif عبدالله الحضيف (@aalhodaif) June 30, 2020
The space hosts workshops, talks, art viewings, and so much more – and its goal is to continue to foster the growing creative community of the city.
في ليلة فخمة لم تقفل أبوابها الى مابعد منتصف الليل كنت ضيفا على نادي أرباب الحرف.
هناك شخوص وأمكنة تغدو معها نهرا جار. pic.twitter.com/fxEGAJmVUT

— عبده خال (@AbduhKhal) February 20, 2019
It is also very engaged in bridging the gap between generations.
في مقهى أرباب الحرف @Arbabalheraf بجدة، رجل دين مستنير @DAhmadq84 وجيل جديد نابض بالإبداع والتفكير والتحضر والخُلق. انسجام ووئام. لا تناقضات ولا فجوة بين المتحدث والسامعين. طاقة إيجابية حاضرة ، وتملأ المكان .
صورة مثالية لما يجب أن يكون عليه شكل الحياة والناس في المستقبل. pic.twitter.com/LTJoLec3eZ

— وحيد الغامدي (@wa7eed2011) March 5, 2020
And, all in all, provide people with a good time!
مرت .. ولا حتى تلتفت
مرت .. وعن عيني اختفت
من أمسية #طلاليات في #صالون_طلال_مداح مع الفنان القدير خالد شمس
الأمسية الشهرية في ارباب الحرف pic.twitter.com/HONWKhsSNh

— أرباب الحرف Arbab Alheraf (@Arbabalheraf) December 13, 2019