Latest
10 Photos Of Umluj That Prove It's The Ultimate Travel Destination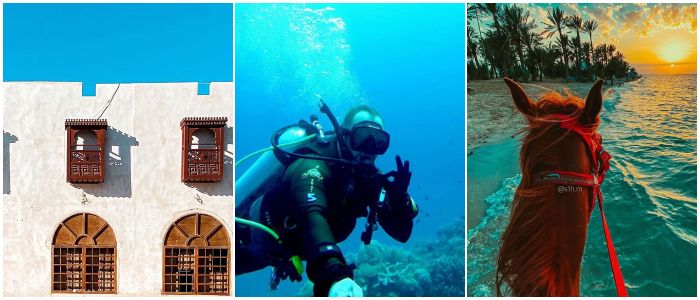 You may have seen photos in your Instagram feed of Umluj before, the gorgeous Red Sea beach town in the Tabuk region, but maybe you didn't even realize this surreal place is in Saudi Arabia! Beach season is here and there's proof that Umluj's white sand beaches are the place to go for the most incredible, relaxing vacation.
Here are 10 photos that prove Umluj is the ultimate travel destination in Saudi Arabia:
10. Foodies, you can enjoy the finest fresh seafood or have a scenic picnic aboard a boat cruise while you take in the views.
9. Animal lovers can do a spot of birdwatching or have the breathtaking experience of seeing dolphins up close on a boat ride.
8. For a once-in-a-lifetime experience of horseback riding alongside the water with this insane view.
7. Adrenaline junkie? Adventurous type? Go scuba diving and check out the gorgeous Red Sea coral reefs in Umluj.
6. There's even some picturesque architecture.
5. The sunsets are indescribable.
4. Fitness junkies — imagine doing yoga with a beach view.
3. The white sand is unlike anything you've seen before.
2. What's underneath the water is just as pretty as the beach.
1. This is literally the perfect vacation.