Latest
15 Things To Check Off Your Riyadh Bucket List This Summer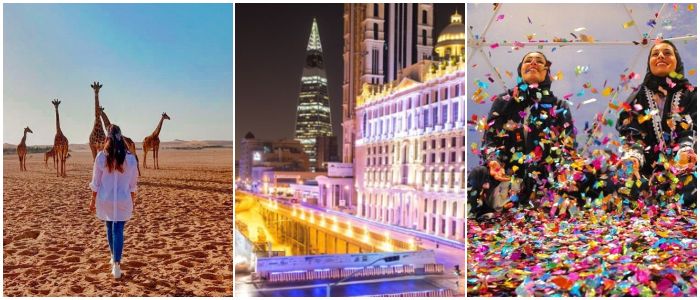 Riyadh is the very heart of Saudi Arabia. The nation's vibrant capital has everything to offer that you'd want in a city — a gorgeous skyline, fun events, top notch shopping and some of the best food you can find. But how's one to decide what should be at the top of your Riyadh bucket list? The endless options can be good, but somewhat overwhelming.
Here are 15 things to check off your Riyadh bucket list this summer:
15. Journey to the Edge Of The World
If you don't mine a bit of a drive and some off-roading, the Edge Of The World  is one of the coolest places in Riyadh, if not all of Saudi. These super high, breathtaking canyons definitely aren't for the faint of heart but make for some epic, unforgettable views. Plus– it just sounds so cool to tell your friends you've been to the "edge of the world."
14. Explore Heet Cave
A quick drive from Riyadh's city centre, this super picturesque cave is one of those things you see on your friend's Insta and just know you have to visit, too. Make the tricky journey down the limestone cave and you'll be rewarded with seeing the prettiest turquoise underground lake where you can take a dip and cool off.
13. Explore the Olaya district
The super happening Olaya district is the place to be seen — and be seen. Lots of people watching opportunities and some seriously good grub here with popular restaurants like Eataly and San Carlo Cicchetti. Grab a meal, then a coffee from one of the many trendy coffee shops and stroll around taking in the vibe. P.S. keep your eyes peeled for the many cool graffiti and street art exhibits in the area!
12. Check out the fountain show at King Abdullah Park
This massive park is also home to a hugely impressive fountain. There are several fountain shows daily, starting around dusk, where the fountains quite literally "dance" and are beautifully lit up. A Riyadh bucket list must.
11. Go on a safari
You don't need to travel to Kenya or Botswana for a super cool safari experience. Just a short drive outside of the city centre is the popular Nofa Wildlife Park and Resort. You can book a private group tour where you'll have your own dedicated guide and vehicle showing you through their own desert safari lands with wild cats, elephants, giraffes and much much more. Seriously, you've never been this close to animals in the wild before. If you want a staycation, the neighbouring resort is also worthwhile.
10. Feel fancy at the Globe Restaurant
Located within the shiny globe at the top of the iconic Faisaliah Tower is the Globe Restaurant. They've got one of the best afternoon teas in the city, where you can choose from a selection of exotic tea blends and nibble on the cutest little desserts all while taking in the stunning views of the city with the panoramic windows.
9. Visit a wadi or two
A quick jaunt from the city centre you'll find both Wadi Namar and Wadi Hanifa. Both offer a tranquil escape from the hustle and bustle of the city where you can enjoy lush greenery, walking trails and enjoy being at one with nature.
8. Go on a hiking adventure
Check out some of Riyadh's natural beauty and wonders on one of many organized hikes that offer seasoned guides to make even a novice hiker a pro. Take lots of water and be prepared for the heat!
7. Visit some novel new museums
Unfortunately, many of the popular historic museums are still closed due to COVID, but there are still some new popups that are open. The Museum of Illusions and Museum of Happiness are a great way to beat the heat indoors and take in some funky exhibits which are sure to make you smile. A great way to spend time with the whole family.
6. Explore Kingdom Tower
This skyscraper is the heart of Riyadh's skyline and is an easy way to spend a day. The lower levels of the building are a luxurious shopping mall with all the designer shops, restaurants and a cinema. Head up the elevator for a spot of lunch at the 77th floor Spazio restaurant and then visit the epic skybridge where you can look down on the entire city.
5. Enjoy a traditional Saudi dining experience
Head over to Najd Village for some simple, but comforting traditional Saudi food. You'll sit on the floor and dine family style — the decor is just perfect. The whole restaurant is built in traditional style. The kabsa and maqlooba are spot on here.
4. Chill out at Snow City
Snow? In the middle of the desert? In summer? Yep, head to Snow City for some manmade snow that really is a unique experience. While the temperatures blaze outside, you'll bundle up in winter gear and do things like snow tubing, skating, or maybe just have a good old fashioned snowball fight!
3. Try drift racing
Speed demons, you'll love putting your lead foot down at Fun Xtreme's race courses with karts. Take your friends and get competitive.
2. Have a fun day out at Al Hokair Land
Feel like a kid again for the day while you check out the fun rides and games at Al Hokair Land. Fun for the whole family, this will make you super nostalgic for your childhood.
1. Visit Ad Diriyah
Head to the roots of the Saudi Arabia and visit the historic seat of the Royal Family and check out the beautiful traditional architecture from the past. A must for your Riyadh bucket list.