Latest
5 Adrenaline Pumping Saudi Adventures To Try At Least Once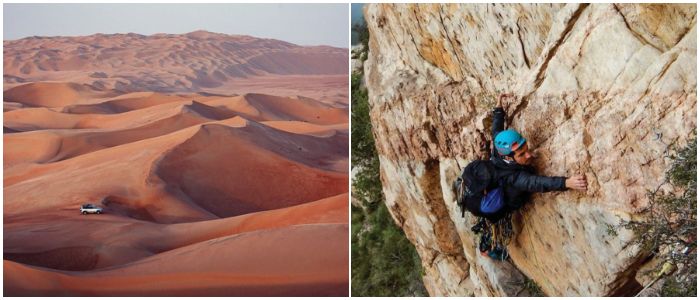 Adrenaline junkies, look no further than your backyard for some of the most daring, thrilling and memorable Saudi adventures. Who knew the land of endless sand and beautiful mosques is also a place to stare fear in the eye? These memorable experiences range from caves and climbing, to hiking and dune-bashing.
Here are the top 5 adrenaline pumping Saudi adventures to try at least once:
5. Take on the Rub Al Khali
If you want to awaken your inner Indiana Jones, take on the Rub Al Khali in the ultimate Saudi adventure. Aptly named the "empty quarter," this huge desert spans across four countries and is inhabited only by local tribes. This vast and frankly intimidating desert is a place where you can try some daring dune-bashing, camping, or even just attempt to cross the whole thing which can take days upon days with no rest stops in sight.
4. Drive through an actual volcano field
Who knew that north of Madinah is a volcanic field called Harrat Khayber? Also called the Black and White Volcanoes for the color of their lava, these volcanoes last erupted less than 1500 years ago. Jabal Abyad (the White Volcano) is the tallest in all of Saudi. The terrain is so difficult hiking is only recommended with the proper equipment, but how cool would it feel to walk on old lava flow and domes that can be seen from space?
3. Explore underwater marvels in the Red Sea
Shipwrecks, coral reefs and countless varieties of marine life await off the west coast of Saudi Arabia in the Red Sea. Go for a diving excursion and swim alongside schools of fish and search for decades old shipwrecks in the warm waters. Most excursions are available from Jeddah. If you're really daring, you can attempt swimming with whale sharks, you daredevil you.
2. Go paragliding over the Arabian Gulf
Not for the faint of heart– conquer new heights over the blue waters off the coast of the Eastern Province by taking a parasailing or paragliding trip. Enjoy the exhilarating feel of being propelled high over the waters with the wind blowing in your hair. Make sure you've got a friend below to take some photos!
1. Conquer the "Wall of Shadows"
It sounds like something straight out of a fiction novel, but the "Wall of Shadows" is the name of a sandstone and granite cliff in Al Sharaf Park, Tanomah. You'll have to get properly fitted with gear because this is a truly dangerous Saudi adventure. Conquer your fear and this summit and you'll be rewarded with a sense of accomplishment and some killer views.