Latest
5 Amazing Natural Wonders In Saudi Arabia To See For Yourself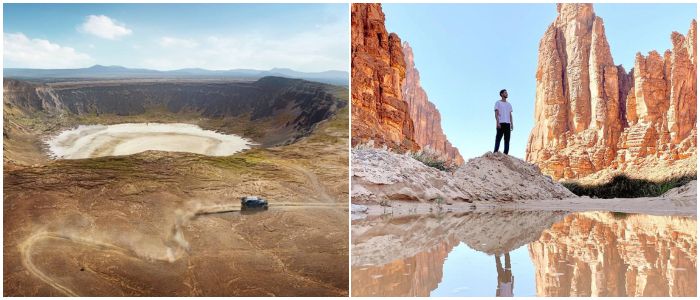 When most people think of Saudi Arabia they think of its rich history and religious significance. But what you may not know is that it is geologically unique and diverse, and there are many natural wonders in Saudi that are unlike anything you'd expect.
With red desert canyons juxtaposed with lush verdant valleys, and some of the most unique natural marvels on the planet, there are numerous sites in Saudi you don't want to miss.
Here are 5 of the most stunning natural wonders in Saudi to see for yourself:
5. Hot Springs
Just about an hours drive from Jazan are the Bani Malik and Khoubah hot springs. These naturally-occurring hot springs can reach temperatures of up to 45 degree Celsius! These geothermal waters are believed to have healing properties as they are loaded with minerals. The Bani Malik hot springs have separate facilities for men and women.
4. Wadi Al Disah
One of Saudi Arabia's most famous and frequently visited wadis, Wadi Al Disah in Tabuk region is truly a sight to behold. Large sandstone cliffs rise up around this unbelievably lush, green valley full of palm trees, citrus trees and other plants. Clear water also flows down into the valley from several different mountainous springs and streams, making for a serene environment.
3. Al Ula
These red sandstone canyons and cliffs look seemingly endless across the landscape of Al Ula. The area is believed to have been underwater millions of years ago, creating the unique wind and water shaped rock formations. Here you'll find naturally occurring wonders like the famous Elephant Rock — which looks as if it has a trunk, the "bowling pin" and also the "face rock." Some have likened Al Ula's topography to Mars with its red sands and out-of-this-world views which are unlike anything you've seen before.
2. Heet Cave
Just 40 KM outside of Riyadh is a naturally formed limestone cave containing a gorgeous underground lake. The turquoise water is reportedly 30 meters deep, although the water levels do fluctuate. You can take a dip or just marvel at the beauty of the cave– lots of photo ops here.
1. Al-Wahbah Crater
About a two hour drive from Taif, or four hours from Jeddah, Al-Wahbah Crater is by far the most breathtaking natural wonder in Saudi Arabia. Geologists believe it was created by volcanic eruptions caused by groundwater touching hot lava. There are many legends and stories about what caused it, only adding the the mystery of this natural marvel. It's an impressive 4KM wide and 250 meters deep, at the bottom of which you'll find a lake. The view of the crater itself is just as stunning as the view you get from standing within it.