Latest
5 Ladies-Only Activities In Saudi To Enjoy On Girls Night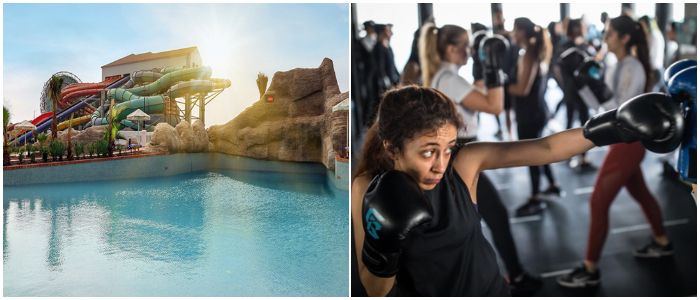 A weekly girls night out is a must! Whether you and your gal pals are the adventurous type or if you want a cosy night in, there are no shortage of ladies only activities in Saudi.
If you've had enough of dining out and spas, here are some new activities to try where you can let your hair down (literally!) without any guys around.
Here are 5 of the most fun ladies activities in Saudi:
5. Girls night in
If you've had enough of restaurants and cinemas and the girls are itching for a night in of relaxation and girly fun, you've got to check out the Pearl Floor at the luxurious Four Seasons Riyadh. Book a night in at this designated ladies-only floor, on the 48th floor of the hotel. It's managed by an all-female staff to help guests feel welcome and secure, and also has a ladies only lounge and gym.
4. Try your hand at boxing
Bring your gloves and a fighting attitude at this Jeddah boxing studio for ladies. Called "Flagboxing," an acronym for "fight like a girl," has a variety of classes that'll help boost your confidence, burn some calories and up your fighting game.
3. Jump to new heights on a trampoline
A great workout and bound to get those endorphins flowing, Bounce trampoline park has locations in Jeddah and Riyadh. Jeddah has a separate ladies only facility and Riyadh is ladies and kids only. Here you can shed your abaya and see how high you can jump with fitness classes or plain freestyle jumping.
2. Play a sport
Football your thing? In recent years there have been a number of initiatives to get more females involved in sports. The Women's Football League in Riyadh, Jeddah and the Eastern Province is getting women active and involved with a little healthy competition. Join a league and enjoy participating in tournaments. If football isn't your game of choice, Golf Saudi is planning to get ladies in the game with registration open for planned opening later this year. They're giving 1,000 women their first golf club membership to learn the game and socialize with other female players.
1. Head to the beach
For some ladies-only fun in the sun, head to Khobar's Half Moon Bay to Dana Beach resort's Loopagoon. It's the world's First Ladies-only waterpark and features over 10 different rides and slides for a thrilling day out. The perfect girl's day out!