Latest
5 Hidden Gems Of The Eastern Province You Need To Visit At Least Once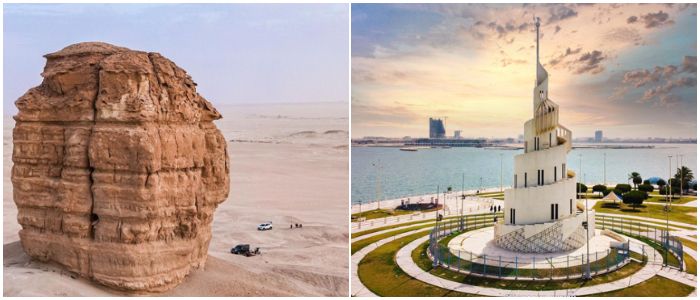 The Saudi tourism movement has opened up our eyes to all this vast country has to offer and the largest province by land area, the Eastern Province, is no exception. Known for its important role in the Saudi oil industry, there's a surprising amount of natural beauty and recreation to enjoy in the province.
We've rounded up some of the best things to do in the Eastern Province:
5. The Taybeen Museum, Khobar
Dubbed "The Unexpected Journey To The Past," the Taybeen Museum is just that. Don't expect ancient relics and priceless artifacts here. The Taybeen Museum is a pop culture, retro museum of sorts with over 10,000 items to check out including vintage food and drinks, nostalgic toys and childhood knick-knacks sure to take you to a pleasant walk down memory lane.
4. Marjan Island, Dammam
Also known as "Coral Island," Dammam's manmade island of fun is one attraction you don't want to miss. Perfect for a days family fun, you can enjoy green spaces, playgrounds, fishing and even a fun ferry ride. Don't forget to go up the iconic spiral white tower.
3. Yellow Lake, Al Ahsa
The Yellow Lake aka Al-Asfar Lake pops up out of the middle of miles and miles of lush, soft white sand just about two hours from Khobar, on the outskirts of Al Ahsa. We're not sure why it's called the yellow lake, but its deep blue waters make for a totally serene picnic spot away from the city. You'll have to drive offroad a bit to get here so make sure you're prepared– and bring binoculars if you're interested in bird watching.
2. Qarah Mountain, Al Ahsa
The Jabal Al Qarah or Al Ahsa Caves are a simply spectacular sight, rising 75 meters high out of the Al-Ahsa oasis. The narrow limestone caves make for incredible photography and the site itself has a museum and guided tours available, describing the historic significance of the place, rightfully dubbed the "Land of Civilization."
1. Judah's Thumb, Al Ahsa
Approximately two hours drive from Khobar and Dammam, Judah's Thumb is a massive rock formation which — you guessed it– sticks out like a sore thumb in the midst of miles of desert. A perfect day trip — especially for those who are into off-roading– it makes for some epic photos and a chance to disconnect.