Latest
6 Saudi Destinations To Visit For Your Eid Holiday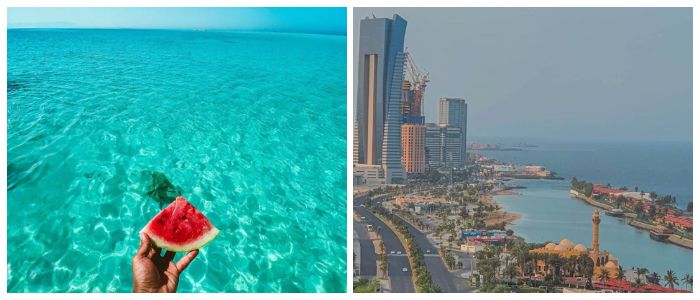 With Ramadan ending in just a few short weeks and schools closing for the summer soon, it's time to start planning where you'll be celebrating your Eid holidays. It's a great choice visit some Saudi destinations, without having to worry about visas, COVID-tests and quarantine rules!
Regardless of what your interest, we've rounded up a variety of vacations you can have right here at home in the Kingdom.
Here are 6 Saudi destinations to consider traveling to for your Eid holiday:
6. Al-Ahsa
Al-Ahsa is a short drive from anywhere in the Eastern Province or Riyadh. A hidden gem, the Al-Ahsa Oasis is not only the largest in the world but it's also a UNESCO World Heritage site– one of five in the Kingdom. It's home to an estimated 2.5 million palm trees! You can explore various outdoor natural wonders like the Al Qarah Mountain caves or Judah's Thumb — a large rock formation. If you have kids you can tour various farms like date farms or even a rice farm. Don't forget to check out the shopping at the Qaisariya Souq.
5. Jeddah
If the big city buzz is more your scene, you're sure to find everything you're looking for in this Saudi destination. The coastal Red Sea city offers the best restaurants, world-class shopping, a breathtaking corniche and lots of parks. For beach-lovers, Jeddah has some luxurious waterfront resorts full of fun for the whole family. There's also tons of entertainment from theatres to theme parks to watersports, there really is something for everyone.
4. Diriyah
Another UNESCO World Heritage Site, Diriyah is one piece of Saudi history you absolutely cannot miss. Located on the outskirts of Riyadh, it's immersed in the rich history of the Saudi Royal Family, the House Of Saud. The site contains ancient ruins and some of the original mud-brick houses, dating all the way back to the 1400s. You can also sample traditional cuisine, a farmers market and visit some museums.
3. Riyadh
Unlike any city, the nation's heart and capital offers a mix of old and new, indoor and outdoor. Those in search of an urban escape can find pretty much any cuisine they fancy in Riyadh's rich foodie scene or hit the shops for some high-end shopping. The best part of Riyadh is it's proximity to some pretty cool day trips. For a thrilling off-road journey and some of the most epic canyon views in the country, you can drive to the Edge Of The World for the day. If you've got kids in tow, there's Nofa Wildlife Park where you can experience an authentic outdoor safari, feed some animals and even have a go at horseback riding.
2. King Abdullah Economic City
Whether you're a Jeddawi looking for a close-to-home getaway or looking for a laidback, relaxing stay, KAEC is an up-and-coming Saudi destination. KAEC offers a number of beach front luxury hotels and resorts, miles of sandy beaches, and recreation like biking and golfing. An added bonus is its close driving range to both Jeddah, Makkah and Madinah.
1. Umluj
Just a 150KM drive up the west coast from Yanbu, Umluj is the place to go if you're craving a Saudi destination that feels like it's straight off a postcard. With its clear blue waters and white sand, it's no wonder Umluj has been dubbed the "Maldives of Saudi." With lots of Instagrammable photo ops, you can take boat rides, go snorkelling and see the colourful coral reefs. Plus, it's only a four-hour drive from Madinah for those wanting to make a spiritual pilgrimage as well.