Latest
7 Spots For Dessert In Riyadh That Will Satisfy Your Sweet Tooth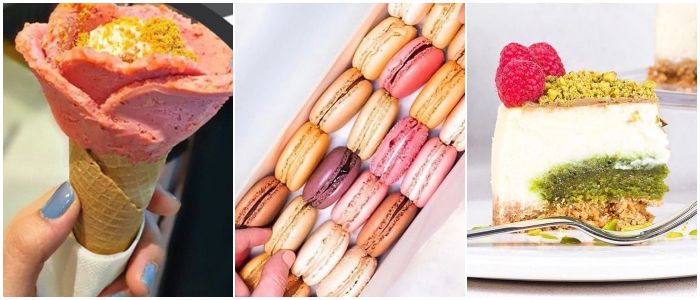 No meal is complete without a sugary, sweet ending. There are tons of places to grab dessert in Riyadh, but a few just stand out. Whether you are a fan of cake, ice cream, French pastries or anything chocolate, there's sure to be something to tickle your tastebuds at these Riyadh dessert spots.
Here are 7 places to grab dessert in Riyadh that will satisfy your sweet tooth:
You'll feel like you've stumbled into Italy at this authentic gelateria. Magalotti's gelato is richer, denser but also not as heavy as regular ice cream. They've got fruity flavors like strawberry and tart mango, to richer varieties like dark chocolate and pistachio. Get yours in a cone — they'll artfully fill it up and top it off so it looks like a blossoming flower. Pro tip– they can give you more than one flavor per cone so you can find your favorite!
If you just can't resist a traditional eastern sweet, Diplomat is the place for you. This uber popular dessert spot has absolutely perfected the classics like basbouseh, knafeh and baklava. Unlike some places which can get these desserts wrong by being overly syrupy and sweet, Diplomat's desserts have optimal sweetness and of course are super fresh daily.
Say buongiorno to the sweet life with all the Italian pastries at this popular joint. They specialize in cannolis, the popular Italian dessert which is a sweet pastry rolled up like a tub and pumped full of sweet ricotta and everything from chocolate and nuts to sprinkles and powdered sugar.
Are you a cheesecake person? Look no further than this bakery which specializes in cheesecakes. Fans swear their cheesecakes are the smoothest and creamiest, and they even come in bite sized pieces. They offer the most scrumptious flavors like a caramel popcorn cheesecake, a traditional berries cheesecake, a baklava cheesecake and even one topped with candy floss.
This place is guaranteed to satisfy your sweet cravings and give you the best sugar rush. Chunk is known for its beautiful cakes but also will satisfy simpler tastes. They are known for their luscious tiramisu (it's the fluffiest), but depending on the season they also serve up juicy fruit popsicles, s'mores and s'more cakes, and even chocolate covered pretzels. Try a bit of everything.
Adore's mini creme brulees are beyond adorable. Their perfect little cube-shaped brulee tarts come in unique flavors like rose, pistachio, mango and raspberry for a twist on the dessert classic. The bite size is a perfect way to have a guilt-free treat — that is if you can stop at just one.
You don't need to go to Paris to get the best French macarons. This iconic French luxury bakery is known for having the most decadent desserts — especially their world famous macarons– is available in Riyadh. The delicate flavored little round almond flour patties are slightly crunchy on the outside and melt in your mouth immediately, filled with a variety of creams and jams sandwiched in between. Go early, because the most popular flavors sell out fast daily.