Jeddah
8 Jeddah Breakfasts Worth Waking Up Early For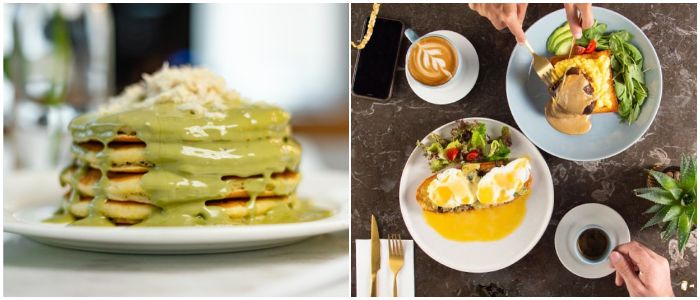 Breakfast is by far the best meal of the day. It's the one meal where it's perfectly acceptable to have chocolate, Nutella and other sweet dishes as your main. It's also yummy, filling and versatile enough to have any time of day. Luckily, there are a ton of Jeddah breakfast spots that serve up the most mouthwatering meals that'll actually make you want to jump up out of bed!
Here are 8 Jeddah breakfast spots worth waking up early for:
8. Knead Bakery
Carb-lovers, this is your heaven. As the name suggests, this bakery and restaurant serves up serious dough with the most irresistible, gooey cinnamon rolls, several sweet and savory bagels, and dessert-like pancakes. P.S. if you're not much of an early riser, there are some breakfast options on their all-day menu.
7. Maison de Zaid
You can choose to dine indoors or al fresco at the prettiest patio in this hip eatery. The decor will give you major rustic vibes and the food will warm your belly and your soul. It's a dream if you've got a sweet tooth, with nearly 10 different types of pancakes stacked high and also varieties of stuffed french toast.
6. Turkuoise
Get your Turkish breakfast fix at this cool fusion joint. The breakfast platters are a great option for someone who can't pick just one thing off the menu. Enjoy Turkish breakfast items like sujuk sausage, menemen eggs, and a plethora of jams and spreads which go perfectly with the delightful fresh baked bread.
5. Caffe Aroma
This top-rated Jeddah breakfast spot is sure not to disappoint. The all-day breakfast menu definitely leans more savory with several varieties of mouthwatering omelettes — hello steak and cheese! It has a super casual vibe so its perfect for a family outing.
4. Brioche
This super-trendy Jeddah breakfast restaurant has a totally laidback, welcoming vibe. The arabic-fusion menu includes like a zaatar stuffed brioche roll or lamb and scrambled eggs. There are also a variety of sandwiches and omelettes, but the best part is the dessert menu– because what breakfast would be complete without it? Top off your breakfast with a sticky date cake or a brioche bun stuffed with dulce de leche.
3. Siblings
This place serves up all day brunch with sophisticated selections like a black truffle toast and ricotta pancakes with honeycomb butter. There are also a number of dishes served on a sizzling skillet like a butternut shakshuka. Everything is so unique you'll find it hard to choose just one item.
2. Eggshelf
You'll have high eggspectations for this eatery– where they profess their love of puns. As you'd imagine, eggs are supreme here, whether they're served up in a sandwich on a croissant or brioche, piled high on a loaded benedict or rolled up and stuffed in an omelette. Don't miss the egg tacos or the egg-stuffed falafels.
1. Circa
Get fine dining vibes at this chic breakfast and brunch spot that looks as good as the food it serves up. You'll love the healthy boost with the acai bowls that are a refreshing start to the day or give in to your sweeth tooth with their super elaborate french toasts and pancakes. One of them even has marshmallow fluff. Drool.