Latest
By Direct Order Of King Salman…. Relief Sent By Air After Massive Explosion In The Lebanese Capital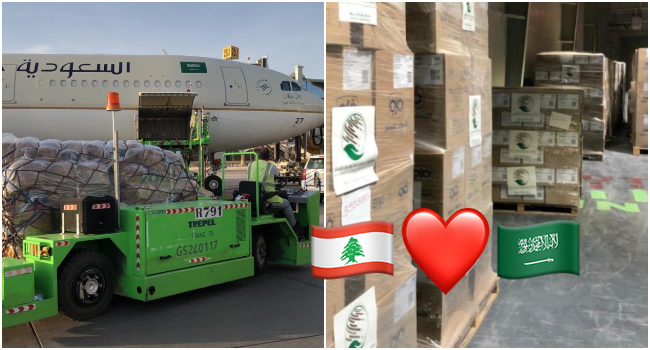 Following the direction of the Custodian of the Two Holy Mosques, two Saudi aid planes set off today to Beirut to provide relief to those affected by the Beirut Port explosion. The aids planes are carrying more than 120 tons of medicine, healthcare equipment, emergency supplies, tents, shelter kits, and food items.
These two planes are the first cargo of relief to the Lebanese territory that will continue for three days. The aid is organized by King Salman Humanitarian Aid and Relief Center (KSRelief), which provides a specialist team to all relief flights to follow up on and supervise the distribution operation.
KSA Relief has also launched an electronic donation on Thursday to help Lebanese people affected by the Beirut Port explosion.
May God prolong the life of our King and may God help all Lebanese during this difficult time
#مركز_الملك_سلمان_للإغاثة يسيّر أولى طلائع الجسر الجوي السعودي إلى #لبنان لمساعدة منكوبي الانفجار في #مرفأ_بيروت pic.twitter.com/7BrxBPGhXx

— مركز الملك سلمان للإغاثة (@KSRelief) August 7, 2020
The Electronic Donation Link
يمكنكم الآن التبرع لمساعدة الأشقاء في #لبنان لمواجهة آثار الانفجار في #مرفأ_بيروت، عبر بوابة التبرع الإلكترونيةhttps://t.co/PD5VcARENU pic.twitter.com/AnBO1U1GO7

— مركز الملك سلمان للإغاثة (@KSRelief) August 6, 2020