Latest
#Hussain_Al_Jassmi Tops Online Trends After Spreading News About His Retirement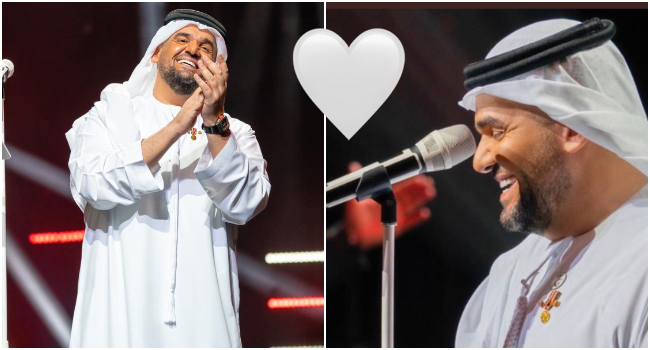 The new hashtag dubbed#Hussain_Al_Jassmi has topped Gulf trend lists after the news that the Emirati superstar Hussain Al Jassmi is thinking of retirement from singing.
Al Jassmi's wide fan base created this hashtag to express their love for him and their desire to hear his amazing voice for many years to come.
Al Jassmi has been under stress due to the criticism he received after his latest tweet for the occasion of Lebanon's Army day, which was two days before the Beirut port explosion.
Unfortunately, some people pointed out the close timing and linked his nationalistic song to the disaster.
A snapshot of the hashtag reactions❤️
#حسين_الجسمي_كلنا_نحبك فنان خلوق، ومحترم،ويشهد الكل له على اخلاقه واحترامه ، والله اني اتمنى له كل خير ،دايم بشوش ومبتسم ،الله يوفقه ان شاء الله❤️❤️ pic.twitter.com/g6bx70abAD

— baby girl (@babygirl112777) August 8, 2020
فنان ما عمره دخل نفسه بمشاكل .. يقدم فنّه بشكل محترم .. حقق انجازات مافي اي فنان ثاني قدر يحققها .. والاهم من هذا كله انه انسان خلوق.

#حسين_الجسمي_كلنا_نحبك pic.twitter.com/BDfYkqjxet

— المتخرج طلال سام. (@TheTalalSam) August 8, 2020
Al Jassmi's older brother reacted to the hashtag as well
لن يحبه أحد أكثر مني ، فهو أخي الأصغر وابني الذي لم أنجبه، حفظك الله يا ولد أمي وأبوي ، ترى والله لم ولن ينجب الوطن العربي فنان مثلك ❤️ #حسين_الجسمي_كلنا_نحبك pic.twitter.com/7oYavTtcAJ

— Saleh Aljasmi|صالح الجسمي (@SalehJasmi) August 7, 2020
♥️♥️
مهم جدًا وجودك♥️♥️♥️
#حسين_الجسمي_كلنا_نحبك pic.twitter.com/OObcC3uOuj

— 𝒜🇸🇦 (@asluvv) August 7, 2020