Latest
Saudia's New Face Masks Are A Beautiful Nod To Saudi Heritage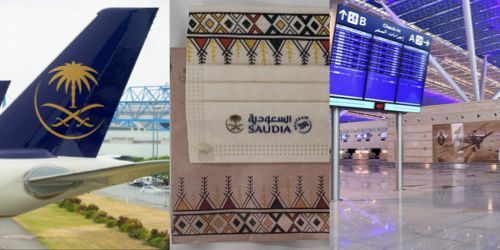 Face masks are crucial to prevent the spread of COVID-19 but Saudia Airlines is also making them fun.
A Twitter user shared a picture of Saudia's new face masks and they are all about Saudi heritage and pride
The masks have beautiful designs representing different cultural designs from various parts of Saudi Arabia.
I love these new #saudia facemasks. Great branding! pic.twitter.com/ZwD9tJb2Ab

— Dr Mark C. Thompson (@ThompsonMarkC) June 3, 2021
The design the Twitter user shared is the al-Qatt from Al-Asiri region and was inscribed on UNESCO's list of Intangible Cultural Heritage of Humanity in 2017.
The colors and the shapes basically represent the Aseri culture which is southern part of Saudi

— Don Hamad (@Valyrianist) June 3, 2021
Here for it!
Saudi Arabia has highlighted its participation within World Day for Cultural Diversity for Dialogue and Development to encourage dialogue between all cultures and communities based on respect and mutual understanding. Here for it!
The Kingdom's participation is aimed at promoting convergence and openness to human cultures
Saudi Arabia is exerting efforts to serve culture and sustainable development in a way that avails the goals of the Kingdom's Vision 2030 reform plans, which reflects the power of culture and its heritage, implementing ambitious initiatives to develop and preserve the cultural sector. Read More.