Jeddah
The Top 10 Restaurants For A Fancy Eid Meal In Jeddah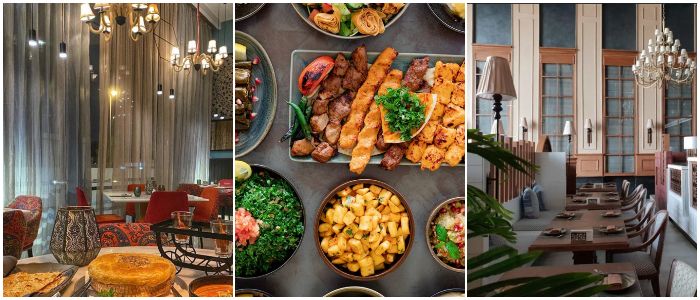 Eid is almost here! Who doesn't love to celebrate the blessed month of fasting with a day of feasting? Nothing brings family and friends together on this day of celebration like sharing yummy food and spending quality time together. For people on the west coast, Jeddah restaurants have some of the best food and ambience there is to offer.
Here are the top 10 restaurants for a fancy Eid meal in Jeddah:
A great dining experience doesn't have to be pretentious! The whole family will have a cool, chill time at this breezy seaside restaurant. Enjoy patio seating with a view of the Red Sea while having some traditional middle eastern food.
Meat-lovers will love Korean food at this hip restaurant. One of the most popular things in Korean cuisine is their barbecue meat. You can order your favourite cuts and varieties of meat and then cook them yourself to your liking and season them yourself right at the table. Other than hands-on dining, they also have favourites like bibimbap.
Armenian fare is a must try at this glam Jeddah restaurant. Grills, eggplant, pomegranate and meat pastries are all part of this unique cuisine which has a few similar elements with middle eastern food. Share a bunch of mains with friends and family, but save room for your own dessert!
This upscale Lebanese restaurant will have your mouth watering with its hearty fare. The coastal chic interiors are super Instagrammable and the corniche location makes for a gorgeous view.
One of the best steakhouses in Jeddah, Sultan's has a wide variety and cuts to satisfy any meat-lover. Take a cool pic or video for the 'gram as the staff bring your meat selection to your table and cook it live for you with sizzling open flames.
You'll feel like a VIP at this restaurant by famed Michelin-starred chef Vineet Bhatia. The delicious menu is sure to satisfy your cravings for biryani and curries — but make sure you can handle the heat! The Indian accents in the decor make it super Instagrammable, too.
4. Sakura
You can literally get any sushi roll under the sky at this Japanese establishment, which offers a massive menu. You'll find everything from sashimi, maki, poke bowls, teppanyaki and a whole slew of traditional Japanese dishes. Sushi addicts, this is the place for you.
This contemporary Chinese restaurant offers a fancy dining experience with rich, dark interiors and must-try mocktails. The dumplings and desserts are to die for. You'll never go back to takeaway Chinese food again.
The hotly-anticipated Jeddah location of this authentic Italian chain finally is open and there's no better place to see and be seen. Take some selfies with the beautiful blue interiors, reminiscent of coastal Italy before you tuck into your meal. This is the closest taste of Italy you can probably get in Jeddah!
1. Nozomi
It's hard to say what's prettier. The perfectly art-like sushi rolls or the gorgeous interiors and ambience at this lively restaurant. A perfect place to celebrate, sharpen your chopsticks and get ready to dig in to some seriously unforgettable food.