Latest
The Top 10 Kids Activities In Riyadh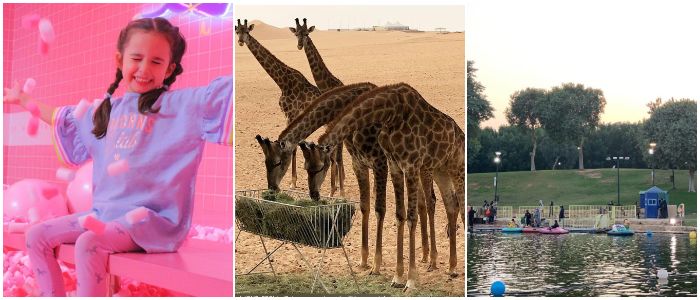 More than just skyscrapers and shopping, there's a reason Riyadh is a popular destination for families looking for a getaway. There are countless kids activities in Riyadh and the whole family from one-of-a-kind outdoor experiences to museums and hands-on-activity centres.
We've rounded up the 10 best kids activities in Riyadh:
Kids usually dread shopping trips to the mall, but they'll perk right up when they see Adventura at The Zone Mall. Adventura has various zones set up for free play for kids, from a sand pit and rides to arts and crafts.
9. World Sights Park
If you haven't been able to travel much in the past year, World Sights Park will be a welcome getaway for parents and kids alike. As the name suggests, this Riyadh park is home to a slew of international landmarks in miniature. Don't forget to bring a selfie stick as you pose in front of a mini Eiffel Tower, Sydney Opera House or the Roman Colosseum.
Parents will be tempted to get in on the fun too at this cool paint-your-own pottery studio. Let your kids grab a smock and get messy as they paint their own decoration pieces with a variety of paints and let their imagination run wild. Parents can join in or relax with a treat from the cafe.
7. Museum of Happiness
This place is bound to put a smile on your face! The newly opened Museum of Happiness at Riyadh Front is the first of its kind in the Kingdom. Parents will feel like kids again too with this museum featuring a giant teddy bear, a delicious cake you can climb, rooms full of marshmallows and confetti and gumball machines galore.
6. Riyadh Zoo
A day at the zoo is the perfect day out for the whole family. Kids will be amazed seeing the various exhibits from the wild cats, exotic birds and even safari animals.
Your kids will literally be bouncing off the walls at this indoor trampoline park, but that's a good thing! A great way to burn off extra energy for the young ones, Bounce features dodgeball, basketball, free jumping and a number of other challenges to get you out of your comfort zone. This location is ladies-only, but boys under 10 are allowed to accompany their mothers.
If you're getting nostalgic for cooler temps and fluffy white snow, there's no better place than Snow City to escape the heat. Chill out in snowsuits to enjoy indoor sledding, tubing and even a good old fashioned snowball fight!
Inquisitive minds will enjoy the mind-bending illusions at this newly opened museum. Kids will love the immersive exhibits where they can get hands-on with various sensory activities and cool visual tricks that will make them laugh.
For a cool day trip just a short trip outside the city, you must get the safari experience at Nofa Wildlife Park. Sit in a shaded safari vehicle and get closer to the wildlife than ever before. You might even get a chance to feed porcupines and alligators! The park also offers horseback riding lessons for kids and adults.
1. Salam Park
Sometimes the simple things are the best. Al Salam Park, a big green space in the middle of the concrete jungle, has play areas, walking tracks, a large fountain and even a quaint lake you can relax by or go boating in. Pack your own picnic and enjoy a day out with the whole family.