Jeddah
Top 10 Kids Activities In Jeddah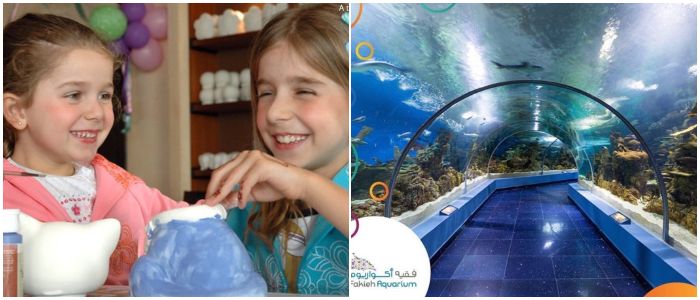 Parents, don't panic! Yes, school's almost out for summer and we might not be travelling as much as normal. But the good news is there are loads of kids activities in Jeddah to keep your kiddos– whether they're big or little — occupied all summer long.
Whether your kids are into arts and crafts, more the sporty type, or if they're always eager to learn, we've rounded up the best of the best.
Here are the top 10 kids activities in Jeddah:
For junior chefs in the making, let them get artistic in Little Baker Cafe's kitchen. There are two locations for this hands-on, baking-centric activity centre where kids can learn how to make the most adorably decorated cakes from unicorn cakes to underwater-themed delicacies. Kids will get to wear an apron and chef's hat while they learn to place, roll and cut fondant and other decorating techniques.
School may be out soon but that doesn't mean the learning has to stop. Keep little minds engaged and curious with Little Camel's educational-based programs where they can take themed classes doing everything from fun science experiments, to sensory play to arts and crafts.
More than just a typical indoor trampolining park, Bounce offers a number of activities the parents might want to join into as well! Get competitive with dodgeball and basketball, or take a jump-fit class– who knew trampolining can burn so many calories? This place will have your kids literally bouncing off the walls, but it's the perfect place for them to burn off some energy and get off their screens.
It just wouldn't be summer without a little time spent at KidZania! An absolute hit for kids who love playing make-believe or dress-up, KidZania gives kids a chance to experience their favourite profession as well as try their hand at various crafts and skills.
Parents will want to join in on the fun too at this paint-your-own-pottery studio. Kids can pick out any blank sculpture, decoration or mug they like and will be given a smock and painting tools galore. It's a wonderful way for kids to explore their imagination, while parents either join in or enjoy a nice treat from the cafe. Win-win.
For kids, there's nothing as thrilling as a day at the amusement park and Al Shallal surely won't disappoint. Daredevils can get their adrenaline rush on coasters and a number of high-speed, high-altitude rides. For younger kids and families there are classics like bumper cars and the pirate ship.
One of the best activities for kids in Jeddah is this little artists haven. Kids can get creative with activities like painting rocks, creating miniature doll houses, making their own dream catcher and even making their own hanging planter.
Your kids will literally be jumping off the walls here, but in a good way. The thing that makes this one of the top kids activities in Jeddah is that it's not just a typical indoor trampoline park. In addition to jumping, there are competitive games like dodgeball and volleyball, a newly added virtual reality experience as well as cool obstacle courses and a gigantic slide. Chances are you'll want to join in on the fun too!
Escape the heat in this indoor recreation haven. Ice skating, bowling, go-karting and even indoor football are just a few of the ways you can pass time here.
It's no surprise the awe-inspiring Fakieh Aquarium take the top spot on our list. The only public aquarium in Saudi Arabia, the Fakieh Aquarium features hundreds of kinds of marine life, many from the nearby Red Sea itself. After touring the massive aquarium you can take in a dolphin show or even book a chance to swim the the dolphins yourself!