Sports
A Formula One Driver Has Survived One Of The Most Serious Accident In The Sport In A Race That Took Place In Bahrain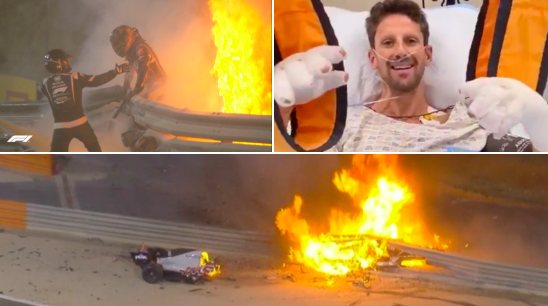 Formula 1 driver, Romain Grosjean's car, violently erupted in flames after splitting in half when it hit a barrier during the first lap of Formula One's Bahrain Grand Prix earlier this week.
Grosjean has, fortunately, made it out of his car without life-threatening injuries.
He is currently being treated in a Manama hospital
We are so thankful that Romain Grosjean was able to walk away from this. We did not need a reminder of the bravery and brilliance of our drivers, marshals, and medical teams, nor of the advances in safety in our sport, but we truly got one today#BahrainGP 🇧🇭 #F1 pic.twitter.com/z8OeTU5Nem

— Formula 1 (@F1) November 29, 2020
Many have called it the most serious accident in the sport in years
اللحظات المرعبة من شوي في سباق فورملا البحرين وحادث مروع ل رومان غروجان واحتراق السيارة وهو فيها لمدة اكثر من 30 ثانية .. قبل ما يتم اخراجه وانقاذه ..
السائق الان بخير ولله الحمد

والله لحظات مرعبة 😰

— جعفر سميث 🇸🇦 (@MrJafarSmith) November 29, 2020
It has been confirmed that, although Romain has suffered slight burns to his hands and feet, he is recovering well
UPDATE: Romain has some minor burns on his hands and ankles but otherwise he is ok. He is with the doctors just now.#HaasF1 #BahrainGP

— Haas F1 Team (@HaasF1Team) November 29, 2020
An update from Romain himself. Pleased to see you're in good spirits! We hope you make a speedy recovery 🙏 pic.twitter.com/njnjjH4GBi

— Haas F1 Team (@HaasF1Team) November 29, 2020
Drivers have also been discussing that the new 'halo' system, a structural frame that has been made mandatory on all racing cars for Formula 1, has been vital in minimising the impacts and injuries to Romain.
سيارة الفرنسي رومان غروجان سائق هاس بعد الحادث المروع في سباق جائزة البحرين للـ #فورمولا1

• منطقة الهالو لحماية السائق السبب الرئيسي في حماية السائق .. كنا نتقد وجود الهالو في البداية لكن أثبت الهالوا أنه مهم في الفورمولا1 لحماية السائقين#F1 #Formula1 #BahrainGP pic.twitter.com/OioLHYcYYo

— Ibrahim Al-Zubaidi 🇸🇦 (@IbrahimAlZubadi) November 29, 2020
Scary pic.twitter.com/3qDArW0Tui

— tami. (@Vetteleclerc) November 29, 2020