Sports
Diego Maradona Has Passed Away And Saudis Are Mourning The Loss Of The Soccer Legend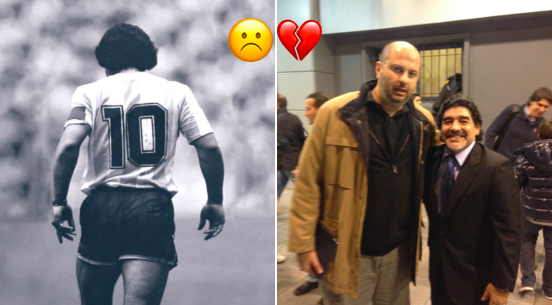 Argentinian soccer legend Diego Maradona has died, aged 60, due to heart failure.
The Argentine Football Association confirmed Maradona's death on Wednesday and posted a short message on its social media platforms.
La Asociación del Fútbol Argentino, a través de su Presidente Claudio Tapia, manifiesta su más profundo dolor por el fallecimiento de nuestra leyenda, Diego Armando Maradona.

Siempre estarás en nuestros corazones 💙 pic.twitter.com/xh6DdfCFed

— AFA (@afa) November 25, 2020
Maradona became a household name after inspiring his country to World Cup glory in 1986 when took center stage at the tournament with a memorable performance against England where he scored an iconic goal that he later described as the "Hand of God." Later in the gam,e he scored one of the best goals in history after weaving his way past seven English defenders.
Maradona is considered greatest players in the history of the game and condolences are pouring in from across the world, including Saudi Arabia
Including from the President of the Entertainment Authority, Turki Al-Sheikh.
As well as other including His Highness Prince Abdullah bin Musaed.
The Greatest of all time… pic.twitter.com/9GCzTOJeEz

— Abdullah Bin Mosaad (@Saudi49er) November 25, 2020
Former National Team player and Al Hilal member, Nawaf Al-Temyat, tweeted that the legendary player carried Argentina on its shoulders in front of the whole world.
وداعاً ياصديقي … أخر مره شفتك في روسيا ٢٠١٨ ووعدتني بزيارتي في المملكه ! وداعاً يا أعظم من لعب كرة القدم … وداعاً يا من أثر في جيلي … وداعاً ديجو … كرة القدم بعدك لا طعم لها 💔💔💔 أنا اليوم حزين .كنت اتحدث معك من ٤ شهور على فكرة مع نتفليكس … وكنت سعيد ! وداعاً ديجو 💔 pic.twitter.com/XPqGJHkMwR

— TURKI ALALSHIKH (@Turki_alalshikh) November 25, 2020