Sports
Love Is Pouring In For Mohammad Al Shalhoub As He Announces His Retirement From Football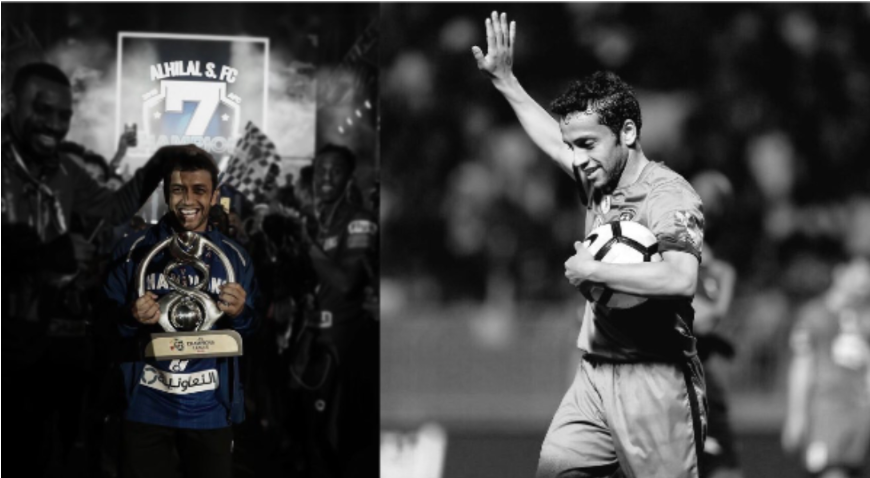 It has been a sad day for Saudi football fans (as well as many others across the region and the world) as a living legend announced his retirement from the game.
Mohammad Al Shalhoub, one of the greatest Saudi footballers of all times, has just announced his retirement
The farewell decision came after he led his team to achieve the Mohammed Bin Salman Professional Cup League on Wednesday for the 16th time in the history of the Blue Club.
He posted a video expressing gratitude for the career he was able to have
The video also features his two adorable daughters!
أحبكم كثير 💙
إلى اللقاء 🙏🇸🇦❤️ pic.twitter.com/teyq0RAbIY

— محمد الشلهوب (@mbsh_10) September 10, 2020
Following the announcement, praise and love have been pouring in for the living legend.
Salem Al Dawsari was amongst the first
#شكراً_محمد_الشلهوب اسطورة الهلال والكرة السعودية ، سنوات مليئة بالذهب والبطولات والانجازات ، تعلمنا منك الكثير داخل وخارج الملعب ، ستبقى في قلوب الهلاليين دائماً ، واتمنى لك التوفيق في قادم الايام يابو البندري💙@mbsh_10 pic.twitter.com/GqofCEn12I

— سالم الدوسري (@salem_d29) September 10, 2020
Salem Al Jaber pointed out that he isn't just a great player but also has a great character
استودعناك الله يا #محمد_الشلهوب
نسأل الله ان يرزقك التوفيق و يمنحك السعادة التي زرعتها في قلوب الجميع وان يحفظك لاهلك ومحبيك.

نعزي برحيلك عن المستطيل الأخضر المتعة و الموهبة و الاخلاق الرياضية صفات لا تصنع بل يمنحها الله من يستحقها وانت نموذج جمع كل جميل رجل يستحيل تكراره. https://t.co/8c8Wg17XvK pic.twitter.com/2vuOkRC0R7

— سامي الجابر (@SamiAlJaber) September 10, 2020
Fahad Al Otaibi called him a role model for the generation
#شكرًا_محمد_الشلهوب على الذهب.. على كل شيء أسعدتنا فيه بروحك وإخلاصك.. شكرًا قائدنا ولا تفيك تجاه ما قدمته لوطنك و #الهلال.. ستبقى قدوة يحتذى بها للأجيال الطامحة في كتابة تاريخها بمداد من ذهب@mbsh_10 pic.twitter.com/p3SMFQY6hn

— فهد بن سعد بن نافل (@Fahad_Alotaibi_) September 10, 2020
Former player for Al Hilal, Yasser Saeed Al-Qahtani, also had a lot of praises
محمد الذي كلما تعب أحدنا أهداه قلباً..
وكلما حزن أحدنا أهداه لَقَباً..

ملأ سيرنا الذاتية بطولات وعندما ارتوينا قرّر أن يلتفت لحياته..

توجعنا -دائماً- ممرات الرحيل وتوجعنا أكثر يوم أن يعبرها أبو البندري💙

وداعاً رفيق الدرب، وصديق العمر ..
لن ننساك

— ياسر القحطاني (@Y20) September 10, 2020
An absolute legend, indeed!
#محمد_الشلهوب
لاعب عن نادي
ومواطن عن شعب
بالرغم من نصراويتي الا انه يمثلني ويمثل 99٪ من الشعب السعودي pic.twitter.com/N2FOMz0ngD

— محمد بن عون (@Bin_awon) August 29, 2018