Sports
Saudi Arabia Might Be Planning A World Cup 2030 Bid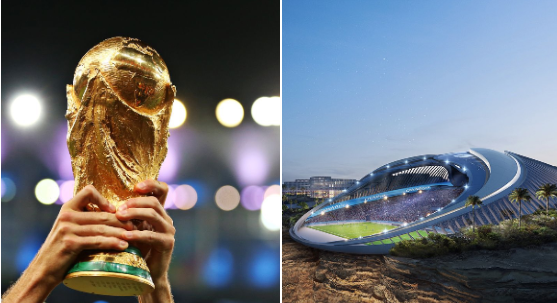 Some international newspapers are reporting that Saudi Arabia is planning to bid to host the 2030 World Cup.
Saudi Arabia might be drawing up plans for a possible bid to host the 2030 World Cup
According to the reports, the Kingdom has hired a US consulting firm to develop a bidding strategy for the tournament – adding, they are considering bidding jointly with a country from another confederation.
If the reports are true, Saudi Arabia will become a competitor to a joint British and Irish bid to host the 2030 World Cup
صحيفة التايمز:#السعودية تخطط لاستضافة كأس العالم 2030 وتعين شركة استشارية لاستراتيجية الاستضافة pic.twitter.com/h0yivbYRWa

— مشاريع السعودية (@SaudiProject) May 28, 2021
The Saudi Football Association last week also asked FiFA to consider holding the World Cup every two years.
FIFA Congress members voted at the 71st meeting to approve the proposal by the Saudi Federation to study the feasibility of holding men's and women's World Cup matches every two years.
The Saudi Arabian Olympic Committee met recently to discuss important things and make major decisions. And one of these decisions included electing decision-makers for the committee.
And a lot of great things are coming to Saudi Olympics and sports in general
The Minister of Sport HRH Prince Abdulaziz bin Turki Al-Faisal Al-Saud has been re-elected as President of the SAOC. Meanwhile, many other big names, including Prince Khaled bin Alwaleed bin Talal Al Saud, who also serves as President of Saudi Sports for All Federation (SFA), have now been appointed to the SAOC board.
Prince Khaled has also been renewed as Sports for All Federation President for the next four years. Read More. Read More.