COVID-19 In Saudi
Sophia The Robot Just Might Become The Go-To Quarantine Companion Real Soon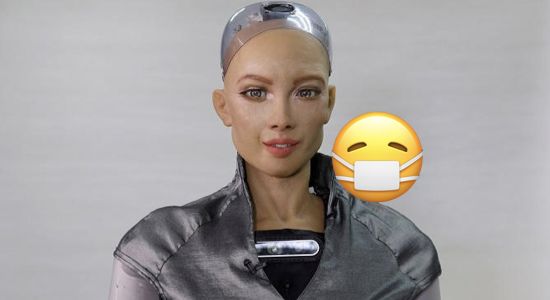 A few years ago, Sophia, the humanoid robot was all the rage after it received Saudi citizenship (making it the first 'robot citizen' ever).
And it seems that Sophia is about to make a major comeback
Thousands of Sophia androids are set to be produced, as the coronavirus pandemic opens up new roles for robotics
Hanson Robotics – the Hong Kong-based company behind Sophia the Robot – has stated that it plans to mass-produce four models, including Sophia, by the end of 2021.
Hanson adds that robots could also provide assistance in industries such as retail and airlines amid the pandemic, or help offset our lack of human contact during quarantine.
"Social robots like me can take care of the sick or elderly," adds Sophia herself. "I can help communicate, give therapy, and provide social stimulation, even in difficult situations."
تقول #الروبوت الشهيرة الشبيهة بالإنسان #صوفيا "يمكن للروبوتات الاجتماعية مثلي أن ترعى المرضى أو كبار السن".

ووفقا لـ "سي ان بي سي" أضافت صوفيا أثناء قيامها بجولة في مختبرها في هونغ كونغ "يمكنني المساعدة في التواصل وتقديم العلاج وتوفير التحفيز الاجتماعي حتى في المواقف الصعبة." pic.twitter.com/oX8UYbpedn

— عبدالله سلطان (@aaaass327) January 25, 2021