Travel
Saudi Lifts The Travel Ban On 11 Countries Including The UAE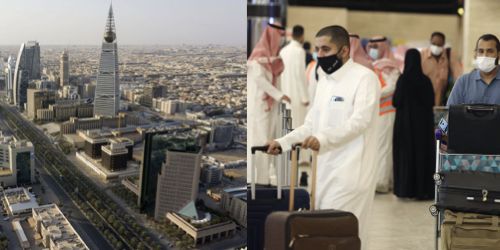 It has finally happened – Saudi Arabia has lifted travel restrictions on 11 key countries including the United Arab Emirates (UAE).
Despite travel restrictions being uplifted overall, these countries were still on the ban list due to  the spread of a variant strain of coronavirus
However, according to the Saudi Public Health Authority (PHA), these countries have shown stability in containing COVID-19.
Passengers from the UAE, Germany, the US, Ireland, Italy, Portugal, the UK, Sweden, Switzerland, France, and Japan may now enter the Kingdom with the implementation of quarantine regulations.
#عاجل #وزارة_الداخلية: السماح بالدخول إلى المملكة للقادمين من الإمارات وألمانيا وأمريكا وإيرلندا وإيطاليا والبرتغال وبريطانيا والسويد وسويسرا وفرنسا واليابان، مع تطبيق إجراءات الحجر الصحي المؤسسي، بدءاً من الساعة الواحدة من صباح يوم غدٍ الأحد. https://t.co/GTOPqISO9A#واس_عام pic.twitter.com/UQ0VQvLufb

— واس العام (@SPAregions) May 29, 2021
However, 13 countries remain on the Interior Ministry's no-go flight red list.
They are Libya, Syria, Lebanon, Yemen, Iran, Turkey, Armenia, Somalia, the Democratic Republic of Congo, Afghanistan, Venezuela, Belarus, and India.
Citizens wishing to travel to these countries need prior permission
The General Authority of Civil Aviation has issued instructions to all airlines operating in the Kingdom's airports regarding the update of travel restrictions for travelers arriving in the Kingdom.
Non-Saudi travelers arriving in the Kingdom, the exempted travelers, immunized and unvaccinated groups must provide health certificates approved in the Kingdom (Coronavirus examination certificates PCR) not exceeding 72 hours from the flight time.
Bring back those tentative travel plans as international flights are expected to resume in some time.
Authorities have confirmed that the restrictions on international travel will be lifted on May 17
The General Authority of Civil Aviation confirmed the date in a statement it sent out to local airports, that all international flights and airports will resume regular operations in May.
Initially, flights were expected to resume by March 31. Read More.