Announcements
The New Red Sea Airport Is Going To Be Straight Out Of The Future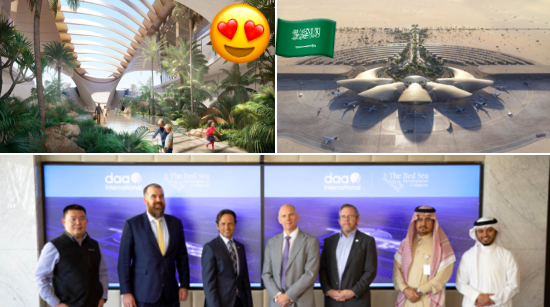 The Red Sea Development Co. has appointed DAA International as the operator of The Red Sea Project's airport.
The Irish aviation firm will provide airfield and terminal operations, aviation services, facilities management and commercial activities, as well as corporate and financial services.
باغانو : "قمنا بتعيين شركة daa العالمية لثقتنا في أنهم سيقدمون للزائرين تجربة مميزة تليق بوجهتنا الفاخرة، بالإضافة إلى التزامهم أيضاً بضمان تحقيق أهداف الاستدامة التي نتبعها." لمعرفة المزيد: https://t.co/i6luVBPNaT#رؤيتنا_واقع pic.twitter.com/msXvq06EHU

— شركة البحر الأحمر للتطوير (@TheRedSeaSA) January 6, 2021
On completion in 2030, the Red Sea International Airport will serve one million passengers annually
The first phase of the flagship project are due to open in 2022.
تحالف سعودي يفوز بعقد إنشاء البنية التحتية لـ مطار مشروع #البحر_الأحمر السياحي pic.twitter.com/r2qHeCvxX6

— مشاريع السعودية (@SaudiProject) July 13, 2020
In 2022, when the first guests are welcomed to the resort, there will be four hotels initially, with 12 more scheduled to open before 2023.
By 2030, the project will comprise 50 hotels offering up to 8,000 hotel rooms and 1,300 residential properties across 22 islands and six inland sites.