News
Saudi Arabia Is Offering A Ceasefire To Yemen's Houthis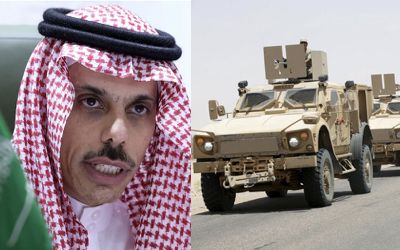 Saudi Arabia has announced an offer for a cease-fire to Yemen's Houthi rebels a cease-fire as part of the latest attempt by the Kingdom to stop the war.
The new peace initiative would include a nationwide ceasefire under UN supervision and the reopening of air and sea links
The Saudi Foreign Minister, Faisal bin Farhan Al Saud, made the statement via Riyadh on Monday.
#وزير_الخارجية: استمراراً لحرص المملكة على أمن واستقرار اليمن والمنطقة والدعم الجاد للسلام وإنهاء الأزمة اليمنية فأنها تعلن عن مبادرة المملكة لإنهاء الأزمة اليمنية والتوصل لحل سياسي شامل والتي تتضمن وقف إطلاق نار شامل تحت مراقبة الأمم المتحدة

— وزارة الخارجية 🇸🇦 (@KSAMOFA) March 22, 2021
The initiative includes the reopening of Sanaa airport and would allow fuel and food imports through Hodeidah port, both of which are controlled by the Iran-aligned Houthi movement.
The Houthis have demanded the lifting of an air and sea blockade as their main pre-condition before any peace deal.
The move by Saudi Arabia follows Yemen's Houthi rebels stepping up a campaign of drone and missile attacks targeting the kingdom's oil sites, and this shaking global energy prices a little.