News
Saudi Arabia Is Ready To Welcome Immunized Visitors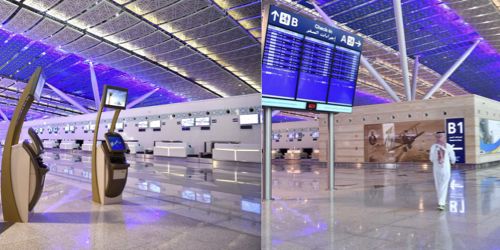 The Saudi airports authority has given takeoff clearance for COVID-191 immunized visitors to enter the Kingdom.
Officials from the General Authority of Civil Aviation have set out the conditions for allowing passengers arriving by air to enter the country
The authorities have said that entry permission would be granted for Saudi citizens and residents shown to be immune from the virus on the Tawakkalna app, those who had received two doses of vaccine or had spent 14 days quarantining after their first jab, and people who had been recovered from COVID-19 for a period not exceeding six months.
بدءًا من ساعة الوصول 🛬#الحجر_الصحي_المؤسسي إجراءات واشتراطات للقادمين من خارج المملكة ..

تعرّف عليها pic.twitter.com/ojHdd5ZVP1

— هيئة الطيران المدني (@ksagaca) May 19, 2021
Non-citizens and residents would be allowed in after registering online proof, in advance of their journey, of having gone 14 days since receiving full vaccination with a Kingdom-approved vaccine.
Meanwhile, the Saudi General Directorate of Passports on Thursday announced that travelers from outside of the Kingdom needed to complete an online vaccination register prior to their arrival in the country.
The electronic process would help to speed up passenger entry procedures but is limited to citizens of Gulf Cooperation Council countries and holders of new visas.
The passports directorate added that it had completed travel procedures for citizens through 19 land and air entry points after the suspension of travel abroad was lifted.