Community
Saudi Artists Have Given A Tunnel In Riyadh A New Look And It Is Not To Be Missed Out On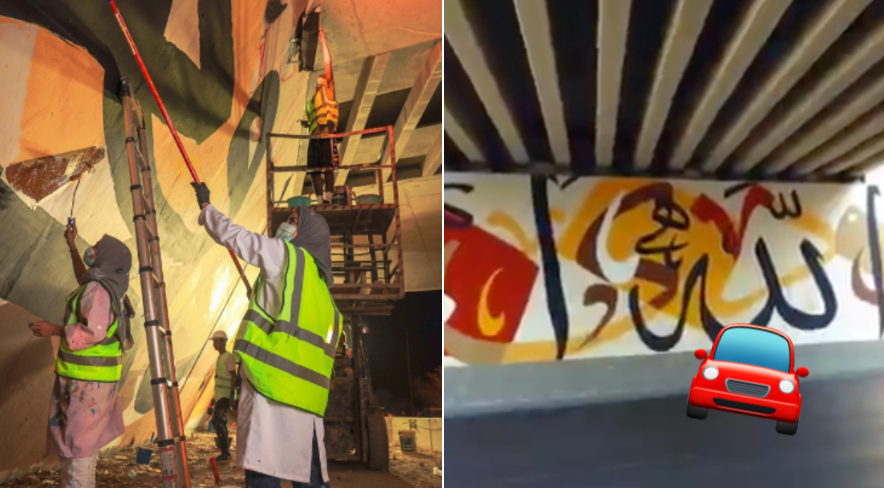 If you are in Riyadh, there is something new in the city that you absolutely need to go take a look at as soon as possible.
This was made possible by the Riyadh Municipality that decided to invite Saudi artists to work on beautifying the city's streets and tunnels.
The result is a tunnel that has been transformed into a beautiful expression of Saudi creativity
In a tweet published by the Mayor of Riyadh, Faisal bin Ayyaf, he explained that the Municipality aims to develop and beautify the city with the involvement of its residents.
بدأت #أمانة_منطقة_الرياض بتجميل الطرق والأنفاق بإبداعات الفنانين السعوديين كخطوة لخلق مدينة إنسانية متفاعلة مع سكانها، وخاصةً المبدعين، وحاضنة للفن بما يعكس هويتنا وأصالتنا..

دورنا منح المواطنين فرصة المشاركة في تشكيل البيئة العمرانية وصنع التغيير الذي يطمحون إليه في مدينتهم.. pic.twitter.com/POnVSGlZ7p

— فيصل بن عبدالعزيز بن عيّاف (@BinAyyafFaisal) September 10, 2020
One of the artists involved also shared some before and after pictures.
رسمتنا بدعم #أمانة_منطقة_الرياض قبل وبعد الرسمه وشكرا للامين العام لامانة الرياض @BinAyyafFaisal ولزملائي الفنانيين @snbl7 @Nourabinsaidan @a7medabdulaziz_ pic.twitter.com/yFyZJLWbsH

— حنتوش آرت (@hntoshy) September 10, 2020
More initiatives like this, please!
شكراً لـ #أمانة_منطقة_الرياض على الجهود المبذولة واختيارهم فنانين وفنانات ليبدعوا في تجميل الطرق، ونتشرف نحن جاليري 015 ان نضع بين ايديكم كافة مقترحاتنا التي ستساهم في ان تكون الأعمال الفنية متماشيةً وهوية الرياض اصالةً وتاريخاً ومعاصرةً بأفضل المعايير والمبدعين @BinAyyafFaisal https://t.co/clNTErZWL6

— Gallery جاليري 015 (@015_Gallery) September 10, 2020