Riyadh
Seven Super Fun Things To Do In Riyadh Right Now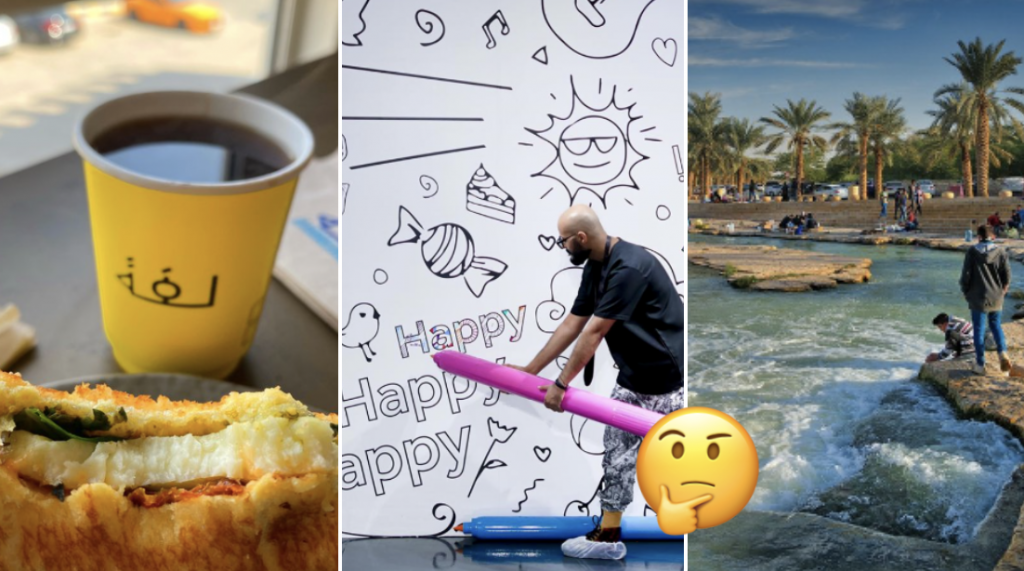 The weather is getting better and the number of positive COVID-19 cases in Saudi are decreasing so it is fair for people to want to go out and have a little bit of fun. It is completely understandable.
And if you are in Riyadh and looking for something to do, look no further. This list has got you sorted.
That being said, it is important to remember that even though COVID-19 situation is getting better here – it does not mean that it is time to throw every precaution out the window. Practice social distancing and stay safe!
Having that sorted, here are all the places in Riyadh that are worth a visit.
1. H
appiness Museum
The first museum of its kind in Saudi Arabia, this super instagrammable happy place is made up of 10 different areas, all with a unique aesthetic and feel to it.
From 4 pm to 11 pm
Ticket price: adults -160 riyals; children – 60 riyals
https://www.instagram.com/p/CGCxOTAhJsi/?utm_source=ig_embed
You Walk
One of the newest plaza complexes in the capital, You Walk is home to a lot of up-and-coming and trendy restos and coffee shops. And true to its name, it is a great place to walk (or even sit in the outdoors)
There is also a cinema.
Prince Turki bin Abdulaziz I Road
وصارت تجربتكم في يو ووك كاملة مع "سينما موفي"!🤩

مجهزين لكم فعاليات هالويكند إلى يوم السبت 7-3-2020 وهلا بالوناسة 🎬🍿😍#uwalk #المراكز_العربية @muvicinemas pic.twitter.com/Pj01W1vt0R

— يو ووك | U Walk (@UWalkRUH) March 6, 2020
Laffah restaurant
This is THE new breakfast place in town, mark our words.
Al-Nakheel District + Al-Nada District
"مطعم ومقهى لفّه ↪️ "
زرت الفرع الجديد لهم بحي الندى واسع مره وشرح 💙🌱
جربت ساندوتش الحلّوم مع بيستو صوص + جرير و طماطم مجففة لذيذه 🍞🍅 + شاي🍃
📍حي الندىhttps://t.co/DKCs6cA0WT pic.twitter.com/OXAh3Ksidk

— Malak's Eyes 👀 (@malak_eyes_) October 17, 2020
Ocean spa
It is a crazy stressful time for everyone so it is okay to treat yourself time and time again- allow it.  And what better way than one of the best spa places in the city?
Al Aqiq District
من أجلك نستعين بأفضل الخبراء.

نحرص أشد الحرص أن يكون طاقم عملنا من أحرف المعالجين في العالم، ولذلك فنحن نختار طاقمنا بعناية شديدة، ويقوم بالمساج خبراء من الفلبين وخبراء من المغرب بالنسبة للحمام المغربي.
ولا نختار إلا الأفضل، من أجل ثقة عملائنا.#أوشن_سبا pic.twitter.com/Vnl7NfSQum

— اوشن سبا | oceanspa (@Oceanspa_ksa) September 24, 2020
Magic Planet
This is the perfect place for children and the children-at-heart so it is hardly a surprise that is one of the favorite places for a family outing.
Riyadh Park | Northern Ring Road
الوالدة أيضا تحتاج لبعض الترفيه من الحين للأخر
زورونا الآن في الرياض بارك في #ماجيك_بلانيت لقضاء أحلى الأوقات، ألعاب ماجيك بلانت لكل الأعمار.#كوكب_ثاني pic.twitter.com/qkLctl3Sil

— Magicplanetksa (@magicplanetksa) June 19, 2018
Mug Cafe
Kuwait's famous Mug Cafe is here and it is an absolute must-visit for a good cuppa and some dessert on the side. Hey, it is all about treating yourself these days.
Prince Turki bin Abdulaziz I Road
"أنا راجع أشوفك سيّرني حنيني إليك" 💙.

من أجمل كافيهات الرياض
الكوفي له عدة فروع في الكويت 💙🇰🇼
MUG ، مق كافيه ♥️
مكان جميل جداً و قهوتهم موزونه و لذيذه
والموظفين لطيفين بشكل مايوصف
الحلو انه يفتح 24 ساعه
الموقع📍: طريق الأمير تركي الاول @mugcoffee4 pic.twitter.com/cN8znmYMaL

— N L 📸. (@_QHll) July 1, 2020
Wadi Hanifa
The dreamiest, most scenic place possible and it is just so perfect when the weather is getting right – which means now so hurry and book a ticket asap!
وادي حنيفة بمدينة الرياض 💚 https://t.co/Ngh9udmcLM pic.twitter.com/QMNWbegcb6

— مدينة الرياض (@RiyadhWebsite) August 9, 2020