Dubai
Rashid Al Habtoor Responds To A 'What Do You Do For A Living' Question Asked By A TikToker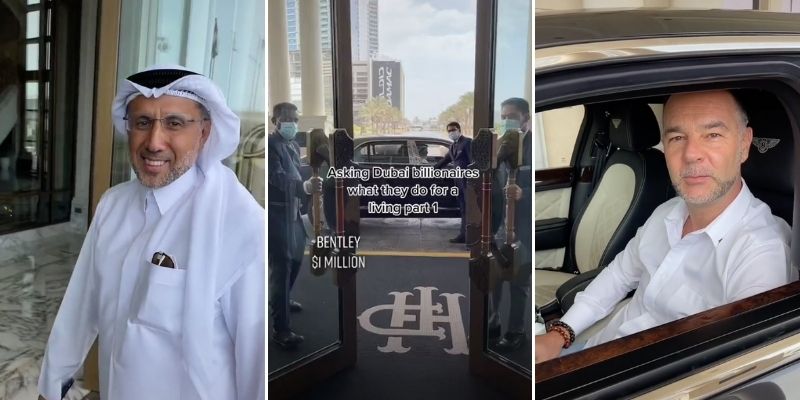 Rashid Al Habtoor Responds To A 'What Do You Do For A Living' Question Asked By A TikToker
If you've used the TikTok platform since the start of 2020, then you might have seen the viral videos in America wherein a TikToker asks random strangers coming out of luxury cars what they do for a living.
It was a hit! Naturally, when people see nice things they want to discover how that wealth was accumulated and the diverse range of careers is an interest for many.
A UAE version of that TikToker took on the same concept, asking UAE billionaires the question…
"What do you do for a living?"
…a question asked to CEO of Al Habtoor Trading & Enterprises, Rashid Khalaf Al Habtoor in a now viral TikTok video that's been making the rounds on social media.
His response? Check out the video below!
This is how the Dubai billionaire responded:
The Al Habtoor Group in the UAE have a wide range of establishments in both the UAE and around the world such as:
Habtoor Grand Resort
Waldorf Astoria Dubai Palm Jumeirah
Habtoor Palace, LXR Hotels & Resorts
V Hotel, Curio Collection by Hilton
Hilton Dubai Al Habtoor City
Metropolitan Hotel Dubai
Al Habtoor Polo Resort
Overseas
Imperial Hotel, a Luxury Collection Hotel, Vienna (Austria)
Hilton London Wembley (United Kingdom)
Hilton Beirut Habtoor Grand (Lebanon)
Hilton Beirut Metropolitan Palace (Lebanon)
President Abraham Lincoln Springfield – a DoubleTree by Hilton Hotel (United States)
InterContinental Budapest (Hungary)
The Ritz-Carlton, Budapest (Hungary)
View this post on Instagram
Hope we see more of these (would be pretty interesting!)
READ MORE: The Top 10 Nature Spots You Have To Explore When In Sharjah
Khor Fakkan, one of the most nature-filled gems of the UAE, located in the Emirate of Sharjah boasts SO many places perfect for the adventurer in all of us. In a TikTok video by the user @_explorer__, he shares 10 spots that one must simply NOT skip out on exploring- and we highly agree.
Who says you need to book a flight out of the country to get a whiff of nature? The UAE has it all from mountains to mysterious-looking lakes all the way down to beautiful stretches of the ocean and waterfalls. You just have to know where to look.
Read the rest here.