Latest
The Teenage Girl Reported Missing Has Been Found In Sharjah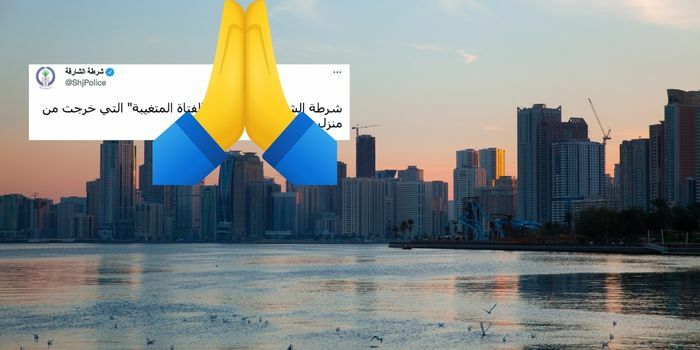 A teenager who was reportedly 'missing' and 'kidnapped' by social media accounts has been thankfully found unharmed, with Sharjah Police stating that she left her home voluntarily.
Sharjah Police announced the 15-year-old was found unharmed and has returned to her family home. Police are calling on the public to avoid sharing information from unofficial sources as this can lead to inaccuracy and uncertainty circling the community.
The report from Sharjah Police states the girl left home voluntarily, unlike social media reports which stated she was kidnapped
Police carried out an intensive investigation, the girl was located in good health and she's now back in the safety of her own home according to Colonel Omar Ahmed Bu Al-Zoud, Director of the Criminal Investigations Department at Sharjah Police.
شرطة الشارقة تعثر على "الفتاة المتغيبة" التي خرجت من منزل ذويها بإرادتهاhttps://t.co/WFfiLEFTAQ

#شرطة_الشارقة #shjpolice #الإمارات #UAE #الشارقة #Sharjah #الإعلام_الأمني #security_media #moiuae pic.twitter.com/Ivbxp0YDw7

— شرطة الشارقة (@ShjPolice) September 19, 2022
WATCH: The Lovin Dubai Show: The "Missing' Girl In Sharjah Has Been Found
READ NEXT: These Are The Skills That Employers In The MENA Region Are Looking For
The job market is a tough one to crack. Some people will tell you that it's the GPA that gets you the job, and others will tell you it's the work experience. It probably depends on the job you're looking for but what everyone can agree on is that the skillset is important.
A survey conducted by Bayt in cooperation with YouGov revealed which skills, job hunters are looking for
Oh, and did you know that the same survey revealed that 56% of UAE companies are planning to hire in the next 3 months? Get your CVs polished and ready