Best Of Dubai
7 Unique Saudi Museums You Must Visit ASAP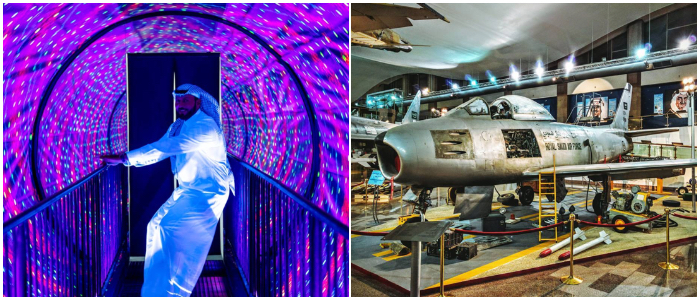 Museums might make you think of wandering aimlessly around exhibits and reading the plaques on artifacts. Think again. Saudi Arabia is rich in culture, traditions, beauty and history and these cool off-the-beaten-path museums prove it.
We've rounded up some of the coolest museums to visit in Saudi Arabia which are interactive, will pique your curiosity, have wonderful tours and some of which are just plain amazing to look at.
Here are 7 Saudi museums you need to visit ASAP:
There's reading or hearing about history. And then there's seeing it for yourself. Visitors will be amazed to see the handmade models and artefacts of Islamic history — both Makkah and Madinah before during and after the time of the Prophet Muhammad (peace be upon him). But the real hidden gem of this museum is the guided tours– the tour guides speak a number of languages and are super knowledgeable.
View this post on Instagram
6. Tayebat Museum, Jeddah
Discover 2,500 of Jeddah's rich history as a seaport and major city in this magnificent museum. Full of exhibits focusing on Islamic history and Saudi Arabia's historic and cultural roots, the museum itself is a sight to behold, reminiscent of traditional Hejazi architecture.
View this post on Instagram
5. Matbouli House Museum, Jeddah
Go back in time at the Matbouli House Museum which is fashioned to resemble a traditional Hejazi merchant's home. Located in Jeddah's historic Al Balad district, wander through three storeys of history and check out the beautiful wooden lattice balconies.
View this post on Instagram
4. Saqer Aljazirah Museum, Riyadh
This Royal Saudi Air Force Museum is sure to thrill with both model plans and retired aircrafts used by the force. Aviation buffs will love seeing the airplanes parts, equipment and simulators on display.
View this post on Instagram
Get a blast from the past at this one-of-a-king nostalgia museum with over 10,000 vintage pieces. From retro Coke and Pepsi memorabilia to toys from your childhood, come here to take a trip down memory lane.
View this post on Instagram
We dare you not to leave this place smiling from ear-to-ear. Inside you'll be greeted by a gigantic cuddly teddy bear, jump into a sea of marshmallows, find gumboil machines galore and shower yourself with confetti. A rare new museum with the simple objective to have everyone leave a little happier than they arrived.
View this post on Instagram
Challenge your mind — and reality — at this quirky new museum in Riyadh. You can tease your brain with some hands-on challenges or simply revel in the mind-bending exhibits and displays.
View this post on Instagram
READ NEXT: The Top 10 Kids Activities in Riyadh