Best Of Dubai
The 5 Best Karak Tea Spots In Saudi For Your Caffeine Fix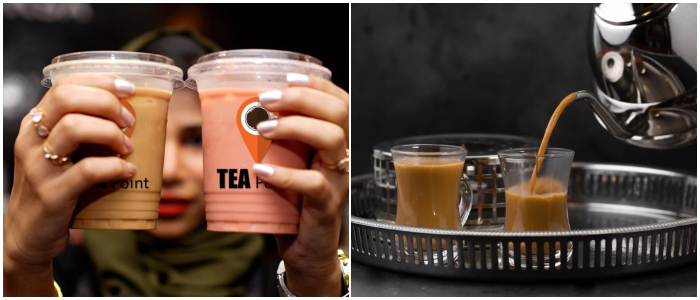 There's no question, people in Saudi love their caffeine. There are cool cafes on almost every other block, but what if coffee isn't your thing? Sometimes nothing hits the spot like a hot cup of karak chai in Saudi. If you know, you know. And if you haven't tried it, you absolutely must. Karak tea or chai is well known in the Arabian Peninsula as well as in South Asia. It's a strongly brewed black tea swirled with creamy milk and a variety of warming spices like cardamom, saffron, cinnamon and more. And it's absolutely comforting and delicious.
Here are the 5 best karak tea spots in Saudi where you can get your caffeine fix:
5. Scratch
With several locations in the Dammam-Khobar area, Scratch serves up karak chai in a variety of flavours that are always spot on. They've got ginger karak, saffron or cardamom, in addition to the classic. Take your pick. They've also got the coolest to-go cups which have a scratch-off that you can reveal to get an uplifting and inspirational message.
View this post on Instagram
4. Mamma Bunz Cafe
Mamma Bunz has locations throughout the Kingdom and is the perfect place to enjoy a karak tea in Saudi. You want to know why? Because nothing goes as well with karak as their hot, fresh, soft, fluffy buns. The karak is served piping hot and without sugar so you can make it exactly as you like.
View this post on Instagram
3. Golden Karak
This Riyadh favourite serves up karak that is cooked to perfection with cardamom and rich saffron flavours. Fans swear by their freshly cooked chapati which makes for a perfect accompaniment for your karak. A favourite for tea breaks and breakfasts.
View this post on Instagram
2. Tea Time
Tea Time has several locations throughout the Eastern Province and is a local favourite. This is perfect if you love lots of spices in your karak tea. Tea Time makes their karak extra sweet and milky. It's super fast and economical. You can pull up in your car and servers will come out to take your order and payment while you wait. Having a party? Bring your thermos or flask and they'll fill it up for you for a small fee.
View this post on Instagram
1. Tea Point
Jeddawis love this super popular karak tea joint which is also known as Karak 'N' Waffle. They serve up waffles, crepes, pancakes and some savouries to accompany your stiff cuppa. What's unique about Tea Point is the sheer variety of karak teas they can make for you. Caramel, pistachio, Nutella and lotus are just a few of the flavours they can whip up your chai in! Yum. Prefer cold drinks in the summer? No problem. Ask for your karak iced.
View this post on Instagram
READ NEXT: 5 Beautiful Coral Reefs In Saudi That Are A Diver's Dream