Travel
Al Ula's Rock Art Is Spellbinding And These Photos Are Proof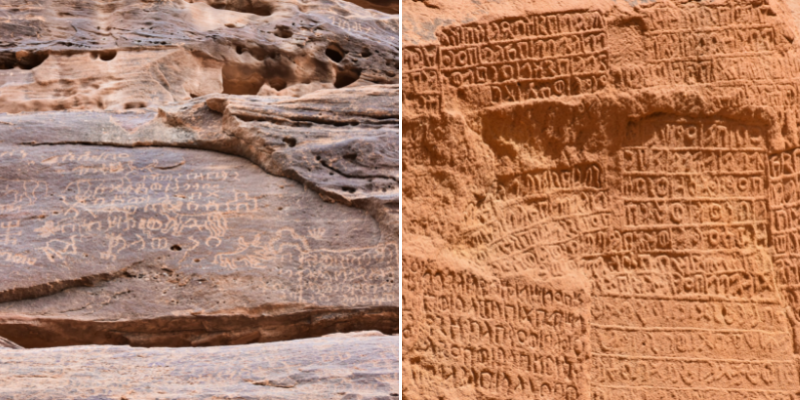 From time immemorial, pilgrims and caravans made through way through Al Ula as they crisscrossed Arabia. Many would leave behind rock art and carved inscriptions on the stunningly beautiful landscape of Al Ula.
Several of these have survived untouched for years and they are absolutely stunning.
أثناء جولاتي مشيا على الأقدام في جبال العلا، رأيت نماذج كثيرة من الفن الصخري للإنسان القديم؛ في هذه الصورت نجد الأشكال الآدمية والنعام والأبقار والكلاب
The mountains of al-Ula preserve a multitude of examples of ancient rock portraying human figures, ostriches, dogs and aurochs pic.twitter.com/Ab02kFBgWL

— Prof. Richard Mortel (@MortelRichard) September 7, 2021

The best sites to view Al Ula's rock art is Jabal Ikmah, Al Aqraa and Naqsh Zuhaie.
Very moved to discover with French archeologists the texts & drawings engraved more than 2500 years ago by the people of #Dadan civilization on the rocks of #Jabal_Ikmah in #AlUla. An open-air library which still contains many secrets and mysteries! #Archeology #BeautifulKSA 🇫🇷🇸🇦 pic.twitter.com/8aj0TCTgLj

— Ludovic Pouille (@ludovic_pouille) November 7, 2020
Here is some equestrianism displayed at Jabal Ikmah
Equestrianism is central to #AlUla's heritage and community, depicted in the inscriptions on Jabal Ikmah & Jabal AlAqra'a. Inspired by tradition, we're unleashing a new collaboration with @SAEFederation to unlock the potential of this timeless sport in AlUla. #SaudiVision2030 pic.twitter.com/6TDODU7yUZ

— الهيئة الملكية لمحافظة العلا (@RCU_SA) August 25, 2020
They are best viewed with the help of local tour guides who'll help you through the varied history of the region—all while you decipher ancient petroglyphs.
Keen to take a stroll through Saudi history? Jabal Ikmah, often described as the kingdom's largest open-air museum, is home to rock faces adorned with inscriptions dating back to the 1st millennium BCE.#VisitSaudi #SaudiHistory pic.twitter.com/sGAe9a1I41

— Visit Saudi (@VisitSaudiNow) December 6, 2020