al-khobar
5 Khobar Shawarma Spots That Always Have A Queue Out The Door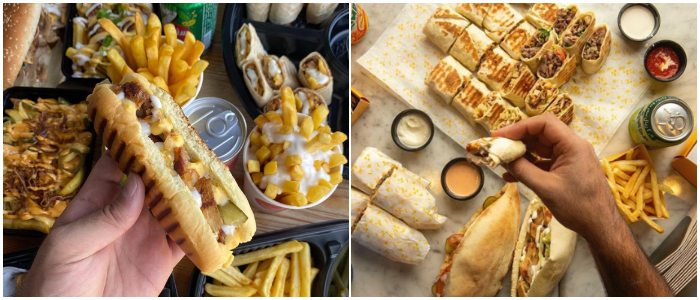 Shawarma is the ultimate comfort food, isn't it? It can be eaten on the go, is super convenient and versatile, filling, and you don't even need any utensils! But… if done wrong, it can be really really bad. Luckily, there are a handful of Khobar shawarma spots that pretty much always get it right.
Whether you like extra fries in yours, pickles, or garlic sauce on the side, you're sure to be satisfied.
Here are 5 Khobar shawarma spots that you'll keep going back for:
This hidden gem in Khobar Shamalia is the perfect place to grab a hot and fresh shawarma and then enjoy it by the corniche. Customize your shawarma as you like — whether it's extra pickles or hold the fries. There isn't seating, but that's the thing about hole-in-the-wall shawarma spots like this, you'll want to start eating as soon as you've got the shawarma in hand!
View this post on Instagram
4. Ousha
Fans can't get enough of the soft, fresh bread at this shawarma joint. You can choose either the traditional Saj bread or their signature fluffy, soft ousha bread which is as yummy as the fillings. Ousha serves up spins on the traditional shawarma like the spicy Mexican shawarma — and the mini shawarmas are just too cute and perfect for sharing or a party.
View this post on Instagram
3. Mozon
This top-rated shawarma spot often has a queue out the door, but loyalists say its well worth it. You can customize your shawarma any which way you like, and it's best eaten outside the restaurant or in your car as seating isn't really ample for families. Pro tip: check out their selection of fresh juices which are super popular.
View this post on Instagram
2. Alfreej Alawal
You'll often see a lineup out the door at this spot and tons of cars parked around where diners are happily eating their hot and tasty shawarma in their car. Let's face it, shawarma is best eaten fresh! Alfreej takes a fresh spin on the traditional shawarma, by serving up the sandwiches in a variety of breads, from potato buns to subs. You've got to try the shawarma with the Cheetos in it. Oh, and their loaded fries are also drool-worthy.
View this post on Instagram
1. Shawarma Hlayel
Hands down the best shawarma in Khobar. This place has a cult-like following– but don't let the lineup at the door deter you! If there's only one shawarma place you try in Khobar, this has to be it. Hlayel is known for having the juiciest meat, which is packed into their shawarmas, unlike some places which skimp on the good stuff. Their special hot sauce is also a must to bring all the flavours together.
View this post on Instagram
READ NEXT: Bahrain's Top Restaurant Is Coming To Saudi Arabia