Community
5 Leading Ladies Of Saudi That Showcase Empowerment With Their Milestones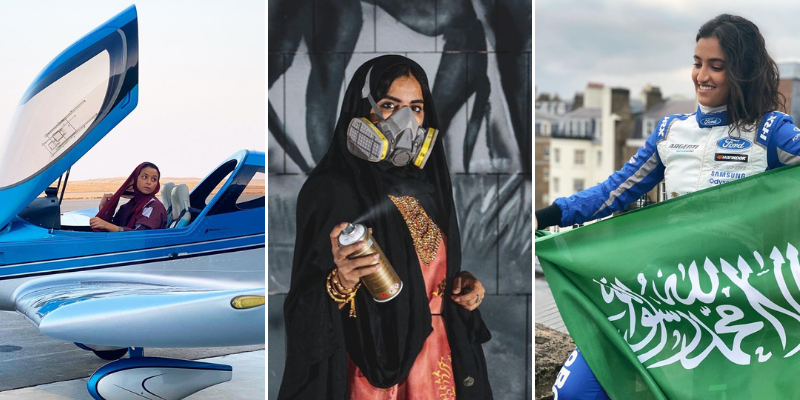 Saudi is full of innovative minds and amazing entrepreneurs and these ladies have left their mark in the best of ways
These ladies have each proved their capabilities in unique ways. From beautiful murals, to brand collabs, and helpful inventions, it is super evident that Saudi is home to endless talent.
Arwa Al-Banawi
View this post on Instagram
This genius made history with her headlining collab with Adidas. Al-Banawi partnered with the sportswear alphas to produce a pair of sneakers that celebrated diversity. The shoes made their debut in the Adidas Originals collection. She even has a prestigious brand of her own, that showcases the concept of "the woman on the go," intertwining high-end fashion with comfortable street wear. Adidas also produced shirts with texts in Arabic reading 'sassy' and 'you say you get me but you don't'. Arwa has truly made history!
Adwa al Dakheel
View this post on Instagram
This 28-year old mogul has optimized to be the best version of herself of a CEO, stock trader, writer, pilot, and musician! This girl has done it all at such a young age, and is only looking for more! Al Dakheel is the CEO of Falak Business Hub, a company that has created 115 jobs in the Kingdom across multiple businesses. The mogul has been featured on Porsche Middle East's campaigns.
Renad Hussain

This medical student at King Saudi University invented a device benefiting drivers with impaired hearing. Her invention features acoustic sensors that are able to transform sounds into images and colors. This genius invention has successfully worked and also lead the genius to win the World Intellectual Property Organization Cup.
Noura Bin Saidan
View this post on Instagram
Noura is a graffti artist in the Kingdom that makes massive murals. Her designs were even featured on Riyadh Season Boulevard, and even all over the walls of Al Khobar's neighborhoods. On her self-operating crane, the artist has created over 16 grand murals of famous artists and singers of the region.
Reema Juffali
View this post on Instagram
This boss lady is the first female racer in the Kingdom who made her debut at the Saudi Grand Prix. She has also participated in the Formula 4 category, and even took part in the 2019-20 all-electric Jaguar I-Pace e-Trophy, as a VIP racer.