Latest
Al Khobar's Corniche Now Boasts Of A Cool New Jogging Track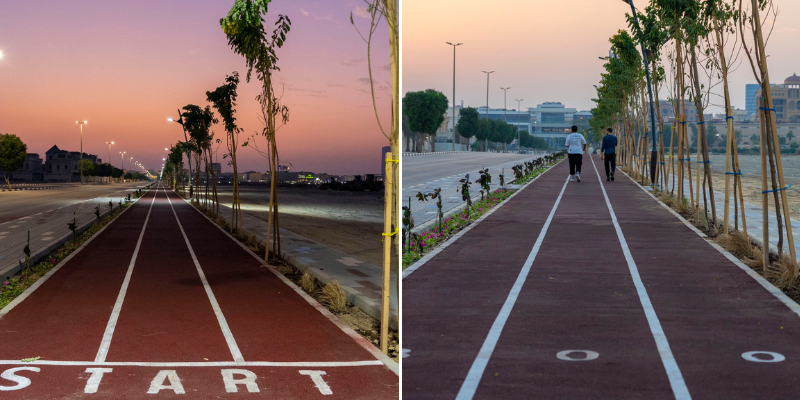 Al Khobar's Corniche is one of the best in the country and now it's got even better thanks to a cool new jogging track called the Corniche Walkway. The first photos hit the net yesterday and it looks amazing. So imagine yourself jogging along the lovely seashore, enjoying those amazing mild sea breezes coming straight from the Arabian Sea. BLISS!
It's even got a dedicated path for the visually impaired.
افتتاح ممشى الكورنيش بـ #الخبر بطول 1000 متر، وعرض 8 أمتار، والذي يحتوي على مسار خاص لذوي الاعاقة البصرية، ويضم أكثر من 550 شجرة وشجيرة على امتداد الممشى وكراسي للجلوس pic.twitter.com/qvLwGfACEo

— مشاريع السعودية (@SaudiProject) November 17, 2021
It's not that long though, measuring 1000 m with an 8 m width to boot. But, hey, at the very least, you'll be able to keep track of how many kilometers you've jogged, right?
#بلدية_الخبر يبلغ طول ممشى الكورنيش 1000 م , وعرض 8 أمتار , ويضم مسار خاص لذوي الاعاقة البصرية, كما يتضمن منطقتين خضراء بمساحة اجمالية تزيد عن 2000 م2 , واكثر من 550 شجرة وشجيرة على امتداد الممشى , وكراسي للجلوس اضافة الى زراعة 4500 زهرة pic.twitter.com/MsG87ALIAW

— بلدية الخبر (@Khobar_mun) November 17, 2021
Here are the coordinates to the place: 26°19'57.7″N 50°13'30.1″E