Latest
Fact Check: The Video Of The Flying Delivery Boy In Saudi Is Fake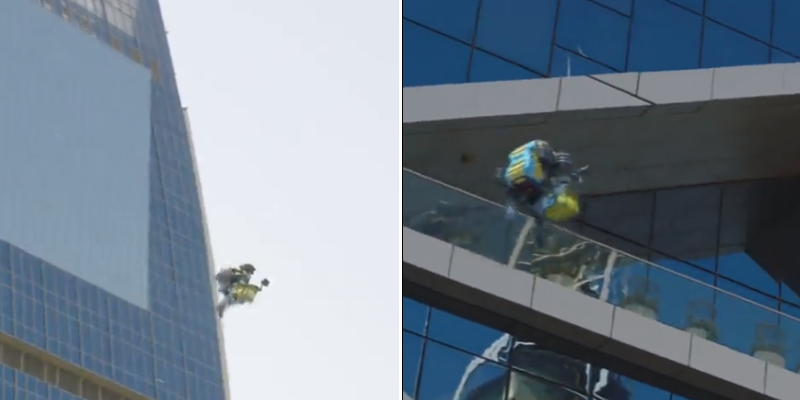 In the past few days, a video supposedly from Riyadh that shows a man delivering food with a jetpack on his back has gone viral. It shows him flying from one building to the next.
So many accounts published it as if it were an actual fact!
Flying man delivering food in Saudi Arabia🤩 pic.twitter.com/TYQaLLuSxJ

— Tansu YEĞEN (@TansuYegen) September 27, 2022

But with such zoom stabilization and the man literally flying with his legs right underneath the jetpack it definitely called for skepticism.
Wait till you see this video which shows a delivery boy delivering a food right to someone's doorstep.
The video of flying delivery man in Saudi Arabia is actually an ad by food delivery service Hunger Station. pic.twitter.com/8P7WU46hL4

— AppleSeed (@AppleSeedTX) September 28, 2022

After going through the numerous videos, we finally found out that it was actually an ad campaign by Saudi based food delivery app Hunger Station.
So sorry to break it to you but flying delivery isn't going to happen anytime soon, but one thing is for sure, Hunger Station has clearly aced the ad game with this.
بالأيام اللي فاتت سبقناكم للمستقبل وشفنا وش بيكون 🤖
لأن في المملكة ما نقول لأي شيء مستحيل 🇸🇦

ريتويت عشان تشوف كيف سبقناك 🔁
لآيك عشان تشوف ردود فعل الناس 💛#اليوم_الوطني_السعودي_92 pic.twitter.com/DmwGOucssS

— هنقرستيشن | #قبل_الكل (@HungerStation) September 22, 2022