al-khobar
There Is A New Cinema That Opened In Khobar And It Looks Incredible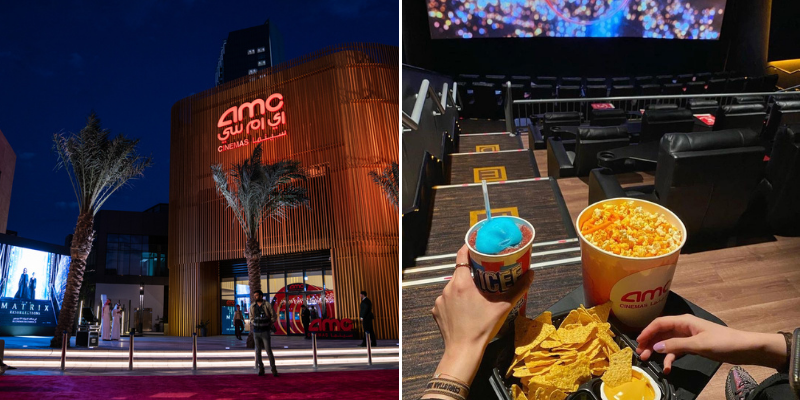 Residents of Al Khobar can now indulge in luxury cinematic experiences at this new location!
AMC Theatres, a global operator, has made its way to the Eastern province opening in A. It first made its way to the Kingdom back in 2018, with its first branch opening in King Abdullah Financial District, Riyadh, offering luxurious cinematic experiences to the public.
ختمنا نهاية السنة بافتتاح موقعنا في أجدان ووك 🤩 فيه ٩ صالات فخمة و تجاربنا الرهيبة دولبي وبرايم اللي تعيشكم جوا الفيلم بقوة صوتها 📣 و كراسيها المريحة.
الحفل كان بالشراكة مع Warner Bros للعرض الاول لفيلم ذا ماتريكس المنتظر اللي بينعرض بجميع مواقعنا pic.twitter.com/bvELFt7GHU

— AMC سينما (@AMC_Cinemas_SA) December 25, 2021
The cinema itself features 900 seats across nine auditoriums, including seven luxurious screens. It also features two premium large screens with Dolby Cinema and Prime, and luxury reclining seats.
This luxury seating can now help get over the attachment to your living room sofa! The comfortable couches not only recline, but are so comfy that it might be hard to eventually leave the theatre.
View this post on Instagram
 CEO to AMC Cinemas, Andrew Such, celebrated the opening by showing support for the 2030 Vision.
View this post on Instagram
"We continue to demonstrate our support for the Kingdom's Vision 2030 Quality of Life programme which aims to enhance and grow the entertainment sector. It motivates us to continue our strategy to build and provide innovative cinemas across the Kingdom." – SUCH
View this post on Instagram
The cinemas now have a total of 10 branches across the Kingdom, in areas including Jeddah, Riyadh, Al-Dawadmi, Hafr Al-Batin and Majmaah.
View this post on Instagram
Saudi had opened cinemas to the public back in 2018, and constantly aims to progress and modify the entertainment industry in the Kingdom.